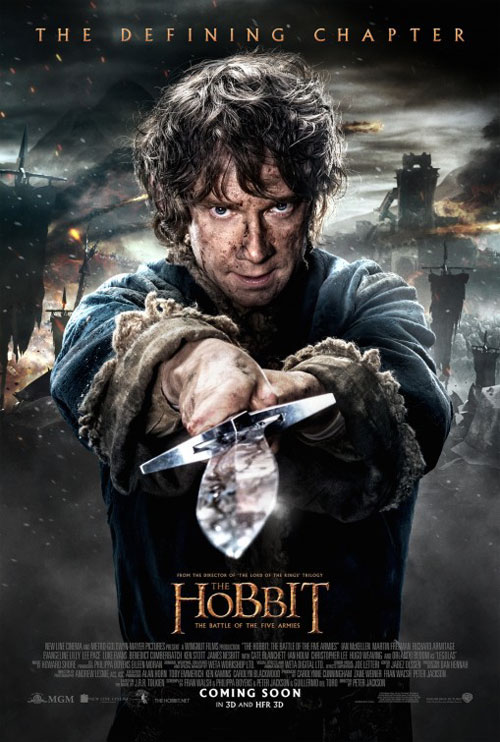 The holiday spirit was in full swing this weekend as moviegoers were gifted tons of new films to choose from.
Coming in first place for the second weekend in a row was Peter Jackson's The Hobbit: The Battle of the Five Armies. The final installment in the epic trilogy follows Bilbo Baggins trying to prevent a major war. The film earned an estimated $41.4 million and currently holds a 4.56 star Tribute user rating.
Taking second place was Angelina Jolie's film Unbroken which brought in $31.7 million. The film features up and coming actor Jack O'Connell who portrays real-life Olympic athlete Louis "Louie" Zamperini as he continuously fights for his life in the United States Air Force, 47 days lost at sea and in a prisoner-of-war camp. The film currently holds a 4.6 star Tribute user rating after its first weekend in theatres.
Coming in third place was Rob Marshall's Into the Woods, which earned $31 million. The star studded musical — featuring Meryl Streep, Emily Blunt, James Corden, Anna Kendrick, Chris Pine and Johnny Depp — follows a cursed couple who venture into the woods to figure out how to break the spell and along the way encounter a variety of Brothers Grimm fairy tale characters. The film currently holds a 3.13 star Tribute user rating.
Dropping from its second place finish in last weekend's box office to land in fourth was Ben Stiller's comedy Night at the Museum: Secret of the Tomb, which earned $20.6 million. The sequel follows Larry, the security guard as he tries to save the museum's magic after it dies out. The film holds a 4 star Tribute user rating.
Rounding out the top five was Will Gluck's Annie. The remake of the beloved musical follows foster child Annie (Quvenzhané Wallis) as her life changes after a political candidate takes her in. The film brought in $16.6 million in its second weekend in theatres and currently holds a 3.44 star Tribute user rating ~Janine Wyslobicky