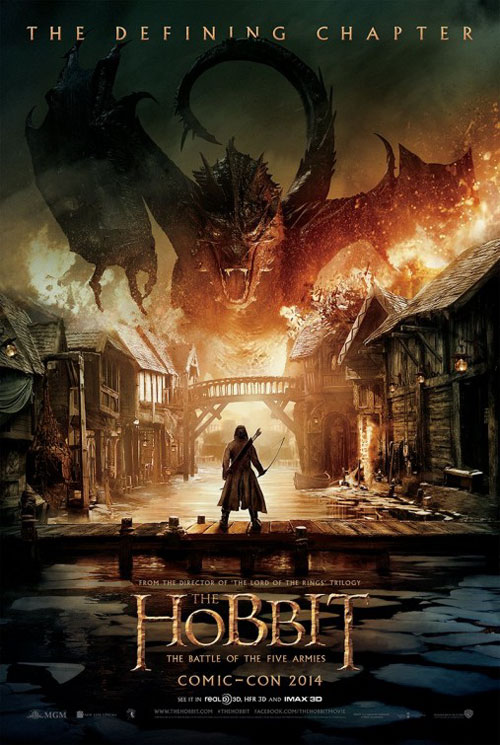 After a slow last few weeks at the box office, following the massive success of The Hunger Games: Mockingjay – Part 1, audiences will be treated to a number of big-budget family-friendly films hitting theatres the weekend before Christmas Day.
The Hobbit: The Battle of the Five Armies was released in theatres December 17 and is already pulling some impressive box office numbers. The final installment in Peter Jackson's Middle-earth epic follows Bilbo Baggins as he tries to prevent a major war between Dwarves, Elves and Men while an army of Orcs is headed straight for Erebor. We attended the Canadian premiere of The Hobbit: The Battle of the Five Armies, where we spoke with director Peter Jackson, screenwriter Philippa Boyens and actor Lee Pace. Check showtimes here.
The beloved musical Annie gets a serious modern update in the new film starring Quvenzhané Wallis and Jamie Foxx. For those not familiar with the classic story, little orphan Annie is given a second chance at happiness when she runs into modern-day Daddy Warbucks, Will Stacks. Quvenzhané recently said she feels she has a lot in common with the character Annie. Check showtimes here.
Night at the Museum: Secret of the Tomb will also hit theaters this weekend. Ben Stiller reprises his role as security guard Larry, who goes on a mission to save the dwindling magic of the museum. The film marks Robin William's final live action role as Theodore Roosevelt. Check showtimes here.
You can find a full listing of all the films currently playing by clicking here as well as all your local showtimes. Happy holidays! ~Kelly Townsend