The House with a Clock in its Walls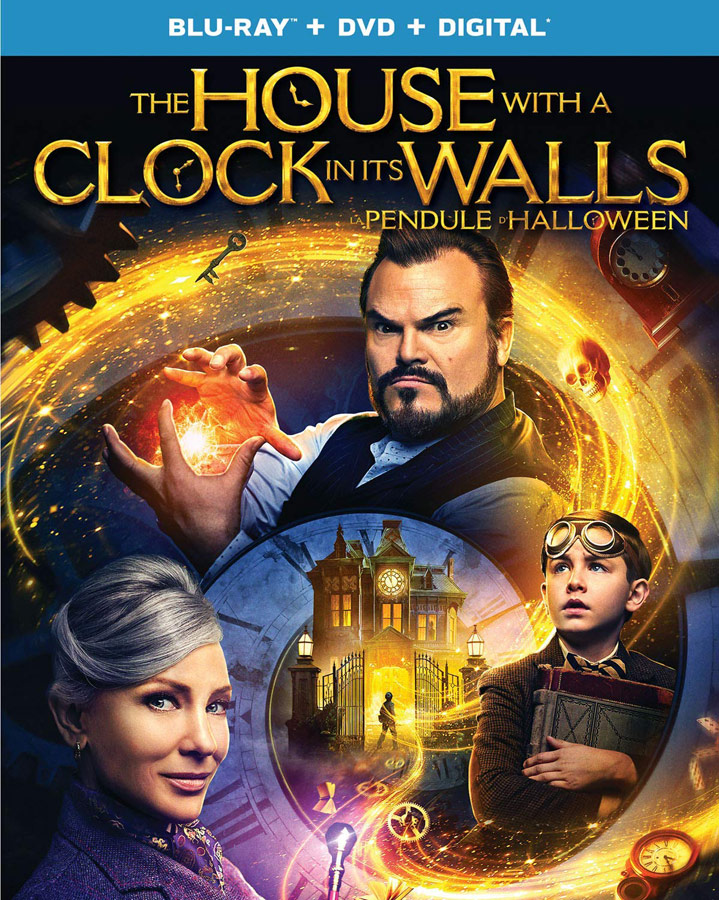 begins with young orphan Lewis Barnavelt (Owen Vaccaro) arriving by bus to live with his uncle Jonathan Barnavelt (Jack Black). Lewis soon realizes that not only is his uncle a little strange — he's a warlock.
Jonathan has an equally strange friend, Florence Zimmerman (Cate Blanchett), with whom he routinely exchanges harmless and often hilarious insults. As Lewis slowly gets used to them, he begins to realize they've got a big secret — and it has to do with the house.
Meanwhile, Lewis is having a hard time fitting in at school. He's picked last for teams and only one other boy, Tarby (Sunny Suljic), shows him any kindness. Tarby's one of the cool kids, but we soon learn he has an ulterior motive for being nice to Lewis.
The House with a Clock in its Walls is spooky, without being too scary for kids. As Lewis rambles around his uncle's old house, which is filled with all kinds of treasures, the audience enjoys the adventure with him. Who wouldn't want free run in an old house filled with magic?
Owen Vaccaro was hilarious earlier this year in Daddy's Home 2 as a kid who goes wild when he gets his first shot of caffeine, and he gets even more screen time here to show off his ability to be a deliciously goofy and uninhibited kid. You can see why Lewis might get teased at school, but at the same time, you'd want to be his friend because he's unique, intelligent and interesting.
As cool kid Tarby, Sunny Suljic shows the star quality needed to move into larger roles, which he has with films such as the October release Mid90s, for which he earned rave reviews in the lead role.
Jack Black turns in a more subdued performance than in most of his previous films, which works perfectly here, and he and Cate Blanchett make a great comedy team as Jonathan and Florence, trading snarky comments that show their characters' fondness for each other.
Bonus Features:
* Alternate Opening and Ending
* Gag Reel
* Movie Magic
* Warlocks and Witches
* Tick Tock: Bringing the Book to Life
* Eli Roth: Director's Journals
* Owen Goes Behind the Scenes
* Theme Song Challenge
* Do You Know Jack Black?
* Abracadabra!
* Jack Black's Greatest Fear
* The Mighty Wurlitzer
* Feature Commentary with Eli Roth and Jack Black
If you have seen The House with a Clock in its Walls and would like to review it, click here. To buy a copy of it on Blu-ray, click here. ~Alexandra Heilbron