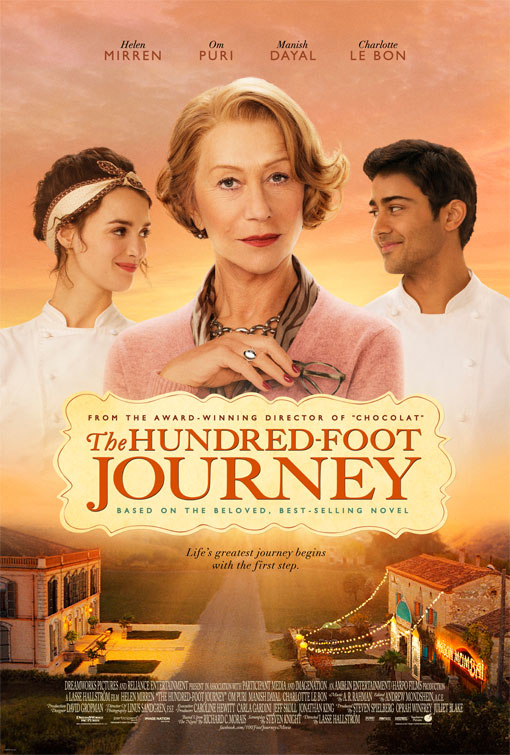 Sprinkled with ambition, passion and love, The Hundred-Foot Journey brings a new meaning to East-meets-West cuisines. The movie takes a look at the lives of an Indian family, The Kadams, who move to the South of France to open a restaurant and bring mouth-watering Indian cuisines to the French village.
While they struggle to open their new restaurant Maison Mumbai, they face fierce competition from the classy and sophisticated Michelin-star restaurant, Le Saule Pleureur, is run by Madame Mallory (Helen Mirren). Their Bollywood style cooking and loud music infuriates Madame Mallory and each party sabotages the other with silly pranks.
Amidst the tension, Hassan Kadam (Manish Dayal), a talented cook, is intent on mastering the French cuisine with a little ethnic twist. He is able to do so with the help of Le Saule Pleureur's chef Marguerite (Charlotte Le Bon). Not only do they bond over their passion for cooking exotic dishes, but they also discover a mutual attraction. While the head of the Kaddam family, Papa (Om Puri), is bent on making his restaurant a class act, his love for his family is evident when he lets Hassan take a job at his rival's restaurant. But nothing is more powerful than the bond of family – which takes young Hassan a while to realize.
Clean cut and filled with love for food and family, this film comes out swinging with success. The movie introduces us to two very different cultures and how they learn to co-exist while giving us a taste of Indian-French cuisines. Helen Mirren, quite brilliantly, addresses her character's need for perfectionism and ambition. For his part, Om Puri effortlessly adds a dash of humor while portraying a father figure and a restaurant owner.  Manish Dayal and Charlotte Le Bon, who were slightly overshadowed by the seasoned actors, managed to stir up a spicy pot of romance. Blending a dash of loyalty, a pinch of passion and a spoonful of humor makes this dramedy dish one to watch. Also available on home release today: As Above, So Below, Dawn of the Planet of the Apes, Jingle All the Way 2, Third Person, Night Moves, The Congress, The Calling and 1987. ~Marriska Fernandes