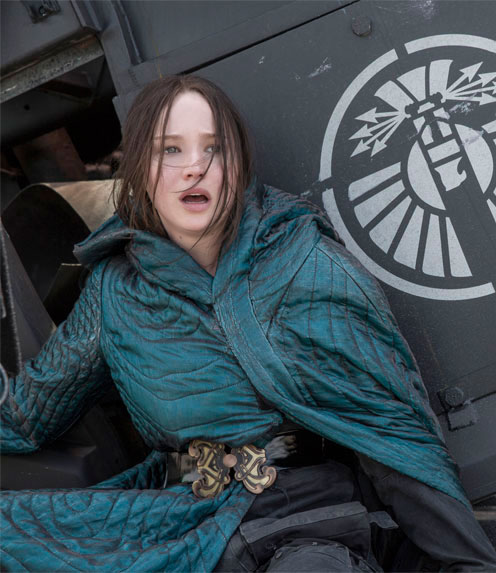 It was another exciting weekend at the movies – with two new releases breaking into the top five at the box office.
The Hunger Games: Mockingjay – Part 2 starring Jennifer Lawrence, Josh Hutcherson and Liam Hemsworth fended off all three newcomers to retain its hold on the top spot at the weekend box office, raking in an estimated $51.6 million and bringing its two-week total to just under the $200 million mark. Despite performing well behind the previous Hunger Games films, Mockingjay – Part 2 is the only film in the franchise to drop less than 50 per cent in its second weekend – if estimates hold.  Tribute.ca users have given this final installment rave reviews, and a 4 star rating.
The top new release this weekend was Disney/Pixar's animated family film The Good Dinosaur, which came in second place with $39.2 million. Although this was the fourth-highest U.S. Thanksgiving weekend opening of all time, it's also the worst opening for a Pixar film since Toy Story in 1995. About a young dinosaur who gets parted from his family and makes his way through strange territory with his dog-like human boy Spot, The Good Dinosaur received a 3.9 rating from Tribute.ca users.
Debuting in third was Creed, a spin-off from the Rocky movies, this time featuring Michael B. Jordan as Adonis Creed, the son of one of Rocky's former opponents. Adonis gets Rocky, played by Sylvester Stallone, to train him. The movie took in an estimated $30.1 million and is getting rave reviews, not only from critics but our Tribute.ca users, who gave it 4.4 stars.
Dropping two spots was the latest James Bond installment, Spectre, starring Daniel Craig, which took in $12.8 million in its fourth weekend in theatres. It's still a popular movie with Tribute users, who rated it 4.1 stars.
Rounding out the top five was The Peanuts Movie, which dropped two spots from third on its fourth weekend. The animated film grossed an additional $9.7 million, and Tribute.ca users gave it a rating of 4.4 stars.
The other new wide release this weekend was Victor Frankenstein, starring James McAvoy as the infamous scientist who, with the help of his assistant Igor (Daniel Radcliffe) develops a technique to reanimate dead tissue, which leads him to create a living being.  It only managed a paltry $2.4 million, landing it in 12th place.  Tribute.ca users rated it 3 stars.