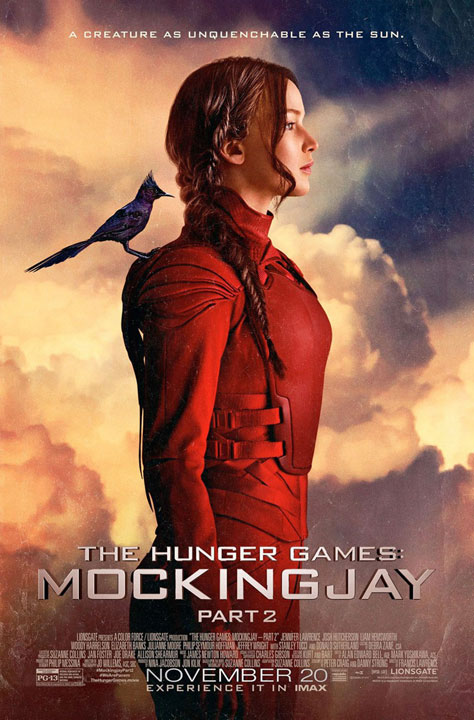 It was a great weekend at the movies with three new releases breaking into the top five at the box office.
The Hunger Games: Mockingjay – Part 2 starring Jennifer Lawrence, Josh Hutcherson and Liam Hemsworth debuted in the top spot at the weekend box office, raking in an impressive $101 million. The movie is the fourth and final installment in The Hunger Games series and although it was the fifth movie to earn more than $100 million in its opening weekend this year, it fell short of the box office debut of The Hunger Games, which amassed $152.5 million on its opening weekend in 2012 and The Hunger Games: Catching Fire, which topped the other releases in the franchise with a debut of $158 million. Even The Hunger Games: Mockingjay – Part 1 opened with $121.8 million last year. Despite this being the least successful opening of the franchise, Tribute.ca users love the film, giving it 4 stars.
After two weeks in the top spot, it was inevitable that Spectre, starring Daniel Craig, would drop this weekend, but only one spot to second place with $14.6 million, bringing its domestic total to over $150 million in less than three weeks. It's still a popular movie with movie fans, who rated it 4 stars at Tribute.ca.
The Peanuts Movie also dropped one spot, winding up in third place on its third weekend out. The animated film featuring Charlie Brown and Snoopy grossed an additional $12.8 million, bringing its domestic total to just under the coveted $100 million mark. Audiences love it, with our Tribute.ca users giving it a rating of 4.4 stars.
The new comedy The Night Before starring Joseph Gordon-Levitt, Seth Rogen and Anthony Mackie, debuted in fourth place with an estimated $10.1 million. It received mixed reviews from Tribute.ca users with a 2.9 star rating.
Rounding out the top five was another new release – Secret in Their Eyes – starring Chiwetel Ejiofor, Julia Roberts, and Nicole Kidman  in the story of an FBI investigator (Roberts) who will stop at nothing in her quest for revenge after her daughter is murdered. It took in $6.6 million and has a 3.2 Tribute.ca rating. ~Sharon Salsberg