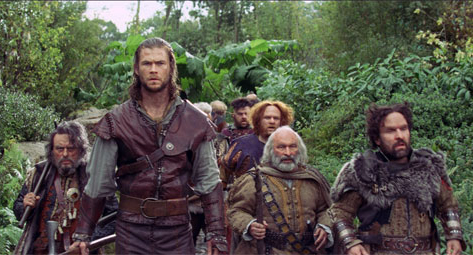 Moviegoers can expect to see a few crucial stars missing in the Snow White & the Huntsman prequel.
The Huntsman, starring Chris Hemsworth and Charlize Theron, will exclude Snow White as well as six of the eight dwarves – yes, eight: Beith, Coll, Duir, Gort, Muir, Nion, Quert and Gus. The 2012 film plot wasn't the only thing that broke with the Disney original. Which two dwarves will make the cut has yet to be determined. However, Nick Frost (Nion), Toby Jones (Coll) and Eddie Marsan (Duir) will not be returning. With the passing of Bob Hoskins (Muir), the remaining choices are Ian McShane (Beith), Ray Winstone (Gort), Johnny Harris (Quert) and Brian Gleeson (Gus).
The decision to make the movie into a prequel, and not a sequel as originally intended, was made July 31, 2014, making Snow White's absence understandable. The plot will focus on The Huntsman and the Evil Queen, Ravenna, focusing on how they met before either of them encountered Snow White.
Emily Blunt is also rumored to be cast as a villain, specifically Ravenna's evil sister.
Following Frank Darabont's departure as director, Cedric Nicolas-Troyan has since taken over.
The Huntsman is set for release April 22, 2016. ~Sandra D. Sukraj