The Incredible Hulk feature
By A A on April 8, 2008 | Leave a Comment
The explosive, action-packed adventure in one of the all-time most popular superhero sagas unfolds with a cure in reach for the world's most primal force of fury: THE INCREDIBLE HULK. We find scientist Bruce Banner (Edward Norton) living in shadows, scouring the planet for an antidote. But the warmongers who dream of abusing his powers won't leave him alone, nor will his need to be with the only woman he has ever loved, Betty Ross (Liv Tyler).
Upon returning to civilization, our brilliant doctor is ruthlessly pursued by The Abomination (Tim Roth) — a nightmarish beast of pure adrenaline and aggression whose powers match The Hulk's own. A fight of comic-book proportions ensues as Banner must call upon the hero within to rescue New York City from total destruction.
Hulk History
The brain child of comic book legends Stan Lee and Jack Kirby, The Hulk made his debut in May of 1962 in The Incredible Hulk #1. The first appearance featured a gray Hulk rather than green, as Stan Lee did not want him to represent any specific ethnic group, but due to the color reproduction technology at the time it was impossible to consistently reproduce the gray, so the second issue saw a green hulk. The first volume of The Incredible Hulk had a short-lived six issue life, but shortly after, the character was seen making cameos in titles such as The Fantastic Four, The Amazing Spiderman and The Avengers (where the character is noted as a founder).
Thanks to a growing fan-base, the Hulk returned as a backup feature in the series Tales To Astonish (Oct 1964), and continued to run until April 1968, when the book was re-titled The Incredible Hulk. Marvel canceled the series in March 1999, only to restart the title with a new issue #1.
The Hulk has become one of Marvel Comics' most recognized heroes, and during his 40 plus years has been faced with most villains and heroes in the vast Marvel universe, as well as crossing over to other publishers. This unmistakable green giant has been featured in several animated series, a TV show and several TV movies, starring Bill Bixby and Lou Ferrigno. In 2003, the Hulk made his big screen debut in Ang Lee's Hulk, and will be reincarnated this summer in The Incredible Hulk.
The Incredible Hulk – Movie Concept Art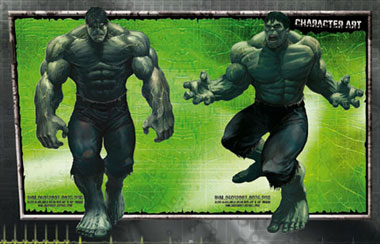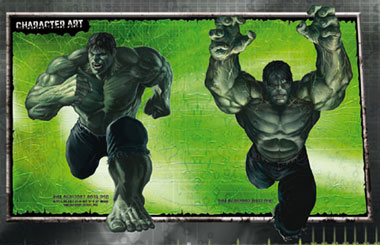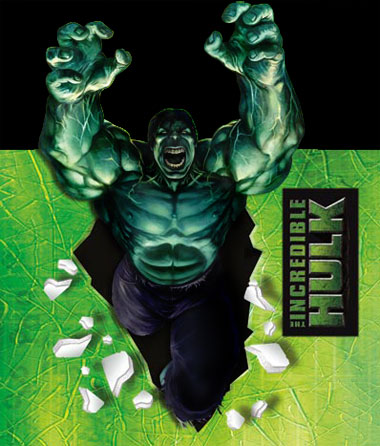 ---
---
---