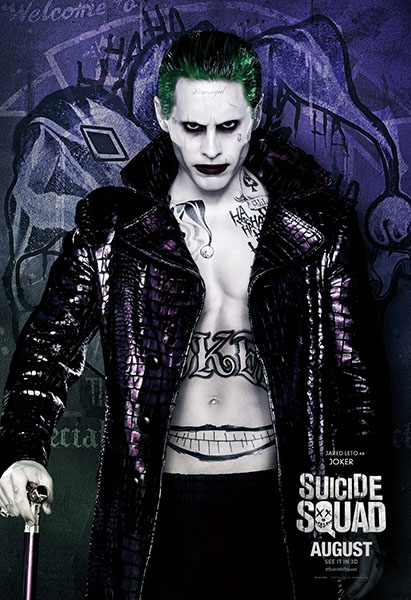 Even though the highly-anticipated Suicide Squad is coming out in less than a month, the details of the plot have been kept pretty private from fans. We've only had a few photos and trailers from the movie, as well as speculation on the journey the characters will take. That is, until now. In Wednesday's issue of Entertainment Weekly, the Joker's (Jared Leto) role in the film has finally been confirmed.
Set following the events of Batman v Superman: Dawn of Justice, the film centers around Amanda Waller (Viola Davis), an intelligence officer from the secret government agency A.R.G.U.S, who attempts to use the city's most evil criminals for the good of the world. She makes a deal with some of them in exchange for shortened prison sentences. This group includes Harley Quinn (Margot Robbie), Deadshot (Will Smith) and Enchantress (Cara Delevingne), and they are used to fight a "mystical" force threatening Earth.
However, iconic arch-criminal the Joker is the true villain of the movie, and is worse than anyone in the villainous Suicide Squad. He has "a laser-like plan" to reunite with and win back his "true love" Harley Quinn, which involves ruining the Suicide Squad's mission. No word if his plan will actually involve lasers.
While fans speculate that the Joker loves Harley Quinn in his own psychotic way, in their comic book origin story, he never actually loved her. He manipulates her to get what he wants, abuses her, and tries to kill her — all while Harley genuinely loves him. That leaves us with the question as to why is he so hellbent on getting her back. This may be a hint that Harley has something in her possession that the Joker really wants.
However, the Joker is confined in a cell for a majority of the movie, so how will the mastermind's plot play out against "the worst heroes ever?"
You can find that out when Suicide Squad hits theaters August 5, 2016. ~Natalia Makarski