With the The Jungle Book dom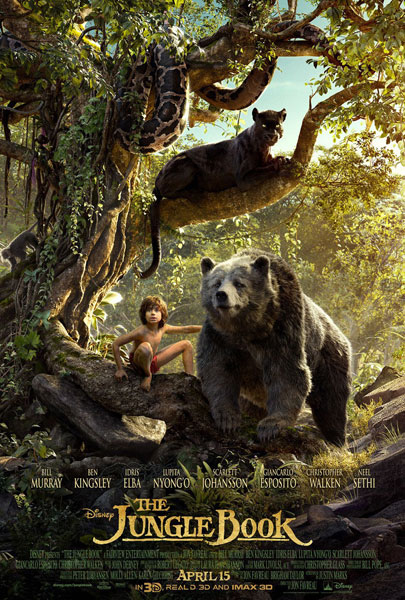 inating the weekend box office, it's no wonder that its trailer has landed at the top as the most-watched trailer of the week. In second, both in theaters and at Tribute.ca, is the fantasy sequel The Huntsman: Winter's War, with the much-talked-about final trailer for X-Men: Apocalypse right behind. The trailer for the comedy The Boss and the first trailer for the action thriller Criminal round out the top five this week. ~Shelby Morton
Watch all the top trailers below:
1.) The Jungle Book
2.) The Huntsman: Winter's War
4.) The Boss
5.) Criminal 
The Jungle Book- In this revamp of the classic Rudyard Kipling novel, orphan boy Mowgli (Neel Sethi) is raised in the jungle by Bagheera (Ben Kingsley) the panther, and Raksha (Lupita Nyong'o) the mother wolf and her cubs. Although he wants to live as one of the wildlife, it's clear that Mowgli should live in the "man village." With the help of Baloo (Bill Murray) and King Louie (Christopher Walken), the King of Apes, Mowgli fights the despicable villains Shere Khan (Idris Elba) and Kaa (Scarlett Johansson) and ultimately decides his future as a human in the jungle.
The Huntsman: Winter's War- Evil Queen Ravenna (Charlize Theron) betrays her good sister Freya (Emily Blunt), which unleashes a formidable power in her. Freya uses this power to form an army of Huntsmen as her protectors. A war for domination breaks out between the two sisters. Freya's top Huntsman, Eric (Chris Hemsworth), and fellow warrior Sara (Jessica Chastain) must help Freya triumph over her evil sister. If they don't succeed, Ravenna's wickedness will rule the land for all eternity.
X-Men: Apocalypse- As the fate of the Earth hangs in the balance, Raven (Jennifer Lawrence), with the help of Professor X (James McAvoy), must lead a team of young X-Men to stop a new nemesis, the villainous first mutant En Sabah Nur, aka Apocalypse (Oscar Isaac).
The Boss- Multi-billionaire and egomaniac Michelle Darnell (Melissa McCarthy) is arrested for insider trading and imprisoned. When Michelle is released six months later, she has no where to go, so her bullied employee Claire (Kristen Bell), takes her in. Michelle takes Claire's daughter Rachel to her girl scout meeting, where she finds out how much the girls earn by selling cookies. She decides to form her own girls' group called Darnell's Darlings, in which she teaches the girls aggressive business skills and makes a mint by having them sell brownies.
Criminal- Jericho Stewart (Kevin Costner), a sociopathic convict has the memories and skills of a deceased CIA agent, Bill Pope (Ryan Reynolds), implanted into his brain. Pope was killed after delivering a Dutch programmer, Jan Stroop (Michael Pitt), to a safe house for protection. The CIA hopes the transplant will help Jericho remember where Pope placed Stroop, but the convict says he remembers nothing. With the intel lodged in his skull, Jericho becomes the target of a terrorist organization. When they try to kill him, he escapes and uses the knowledge and skills he now possesses to find Pope's wife Jill (Gal Gadot) to get information on her late husband's plan. Once there, he begins to feel compassion for the first time and sets out to finish Pope's mission.