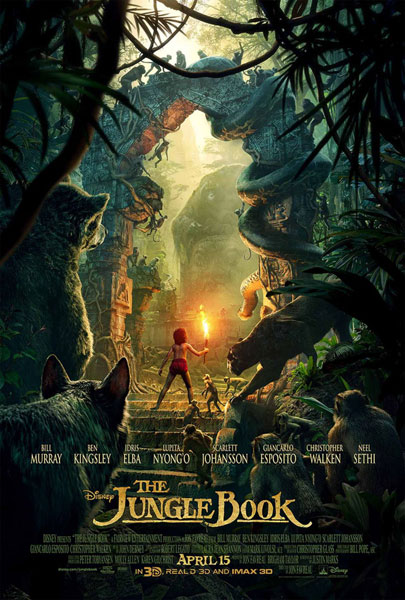 There wasn't much competition at the box office this weekend for Disney's live action reboot, The Jungle Book, which made its debut. Barbershop: The Next Cut was another wide release that debuted in the top five, but the third, Criminal, starring Kevin Costner, Gary Oldman and Ryan Reynolds, just missed the cut, winding up in sixth place with $5.9 million.
The Jungle Book made a killing at the box office, taking in $103.2 million in North America alone, more than $20 million more than expected. According to Forbes, the film is on track to earn $1 billion worldwide, joining an elite group of films — only 24 have ever earned that amount worldwide and only seven of those were not sequels. In India, where the film is set, it earned $6 million — the second highest take in that country for a Hollywood movie. Here at Tribute, readers gave it a well-deserved 4.6 stars. To read our review of this film, click here.
Barbershop: The Next Cut debuted in second place, earning $20.2 million, a good take for the comedy, which is the fourth movie in the Barbershop franchise. Tribute fans gave it 4 stars.
Last week's number one film, The Boss starring Melissa McCarthy, dropped two spots to third place in its second weekend at the box office, earning an additional $10 million. The star rating at Tribute for this movie is 2.7 stars.
Dropping two spots to fourth place was the former box office champ Batman v Superman: Dawn of Justice, which took in an additional $9 million, putting it over the $300 million mark at the domestic box office after just four weeks of release. Tribute fans gave this popular film a 3.8 star rating.
Rounding out the top five was the animated comedy Zootopia — the second Disney film in the top five. After seven weeks of release and an impressive six weekends in the top three, it dropped two spots with a take of $8.1 million. It has also now grossed more than $300 million at the domestic box office. Our Tribute readers love this cute animated flick, giving it 4.3 stars.
And there you have it! What did you go see this past weekend? 

Loading ...