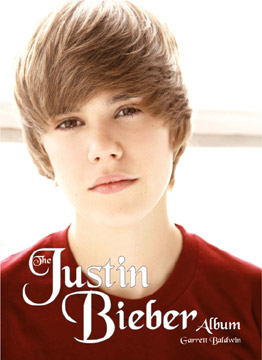 Publishers Group Canada has released The Justin Bieber Album – a 64-page softcover book filled with photos of Justin performing, as well as with friends, fans and other celebrities. The writer, Garrett Baldwin, has obviously done extensive research and has managed to obtain quotes by Justin from numerous sources. The book mainly contains information about Justin that is public knowledge – fans have probably read about much of what's inside at various entertainment news sites online, but the writer has neatly packaged and arranged them all into one book, with a variety of quality images. The writing is clear and easy to read, and gives the singer's story from the beginning. Actually, even a little before his beginning – his mother wanted to go to school in Toronto to become a singer, but was denied the opportunity by her parents.
This, apparently, is why she's very supportive of her son's career, although she's also extremely careful about who he is allowed to associates with. As a devout Christian, she'd hoped he would become a singer who mainly sang Christian songs.
I don't know if this is general knowledge, but in addition to playing several instruments, Justin also writes many of his own songs, according to this book. Generally teen idols have a shelf life of about four years, but if he genuinely has a talent for writing hits, his career may extend beyond what many are predicting for him. ~A.H.