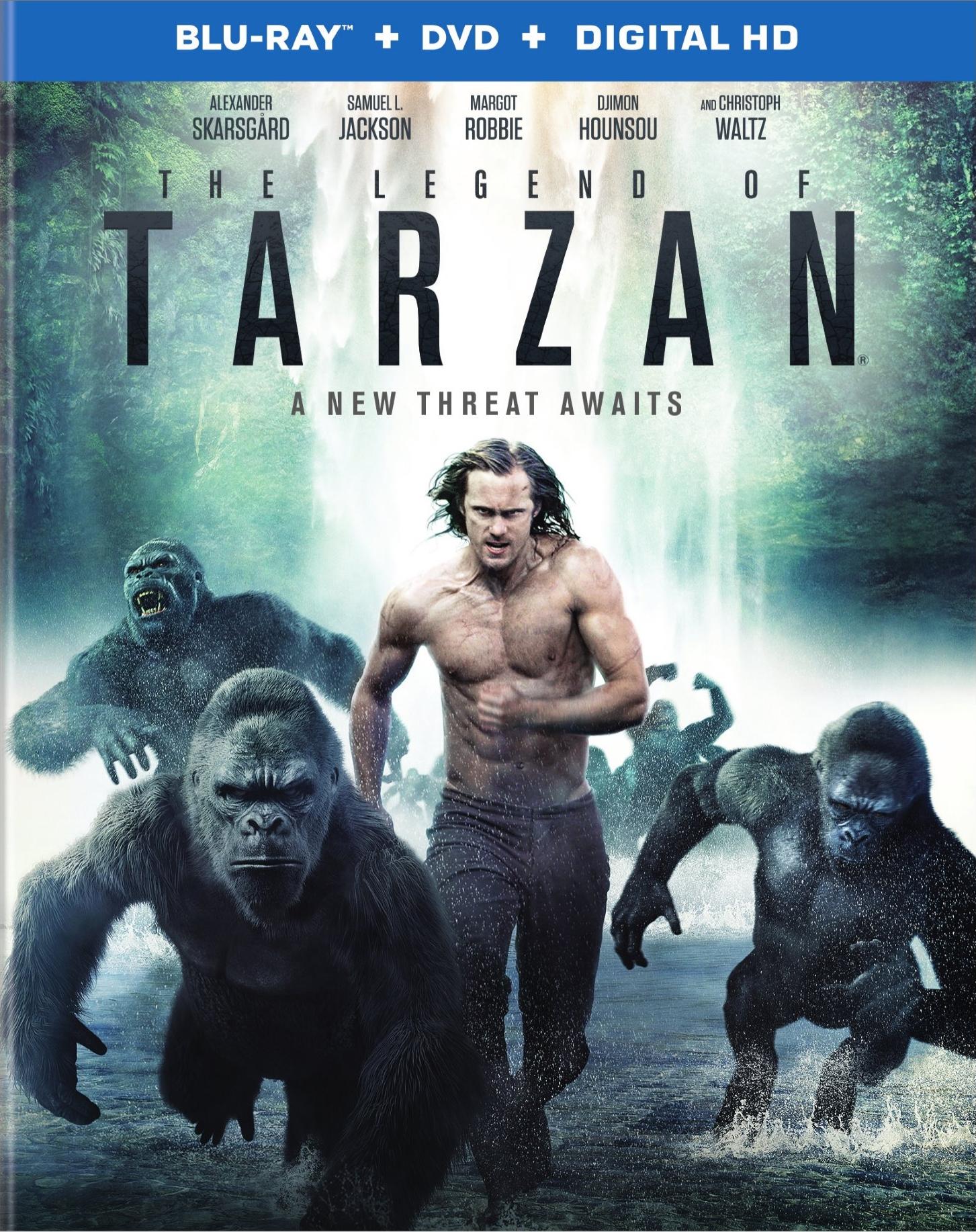 In The Legend of Tarzan, it's been eight years since Tarzan, now known as John Clayton — a.k.a Lord Greystoke (Alexander Skarsgård) — has been back to the Congo, where he grew up.
Living a cushy and very comfortable life in 19th century England with his wife Jane (Margot Robbie), John is reluctant to give it up when he is asked to go back to the jungle as a Parliament trade emissary.
However, he agrees when George Washington Williams (Samuel L. Jackson) mentions his suspicion that King Leopold is using slavery to build bridges in the area. Upon arrival, the group is faced with a much darker reality, and they are forced to fight the conniving Leon Rom (Christoph Waltz), whose blood thirsty lust for diamonds makes him a deadly threat to anyone who stands in his way.
This isn't your child's Tarzan. Say adios to the soft warm fuzzy feeling you remember from the 1999 Disney rendition of the film. The Legend of Tarzan tells a darker tale of a man struggling to balance his unconventional upbringing in the jungle with the life his mother and father intended him to have in England. Add the history of the Congo with the Belgian Occupation and King Leopold's antics to this mix and you have a very heavy adventure tale on your hands.
We're first introduced to Tarzan as John Clayton in England, where he's clad in fashionable clothing and displaying the mannerisms of his country and time. John declares that England is his home now, but he continues to have flashbacks of his past in Africa. Thanks to Alexander Skarsgård's dark, smoldering performance, we see that struggle play out clearly on John's face. Skarsgård was a satisfying Tarzan, gaining in physical presence where he lacked in dialogue.
Margot Robbie portrayed Jane as a strong, outspoken woman whose spirit is as wild as that of her husband. She will stop at nothing to save the ones she loves, even if it includes throwing herself into very dangerous situations (or crocodile infested waters!) While it wasn't one of Margot's best performances, she is clearly fearless and willing to push the boundaries as far as she can with the character.
Christoph Waltz as Leon Rom and Samuel L. Jackson as George Washington Williams brought the film together delightfully in two polar opposite ways. Waltz commanded every scene he was in, playing the sly, wicked villain with ease. Watching him act is almost like watching a Tetris puzzle assembled perfectly, it's just so satisfying. On the other hand, Jackson provided much needed comedic relief during grimmer moments, as he attempted to keep up with Tarzan and his tribe in the depths of the jungle.
The key to a great adventure movie is to create a fully immersive experience for the audience — to make them forget they're watching a movie. The Legend of Tarzan does just that. From tree-climbing to cliff-jumping to wrestling with giant gorillas, the CGI and special effects were mesmerizing. The animals were so close to lifelike at particular moments that I was almost frightened for Skarsgård during a scene in which Tarzan cuddles a lion he's known since childhood. Tip — you can check out how they accomplished this in the special features listed below!
Overall, The Legend of Tarzan was an action-packed hour and 45 minutes of entertainment that does not disappoint. It conveys several positive messages amidst the epic adventure, including the abolishment of slavery in the Congo, the need for man and nature to find a way to coexist together, and the importance of forgiving your past in order to forge new beginnings. It's a well-rounded tale suited for anyone looking for a little wild adventure without leaving the comfort of your couch!
You won't want to miss the jaw-dropping Special Features, including Tarzan Reborn: discover the process of recreating Tarzan for a new generation; Creating The Virtual Jungle: watch the magical process of bringing the CGI gorillas, elephants and lions to life as well as the whole jungle; and Battles and Bare Knuckles Brawls: join the visual effects team as they show you how they created a very exciting rampage scene at the end of the film! ~Emily Hatfield
If you have seen The Legend of Tarzan and would like to rate/review the movie yourself, click here.