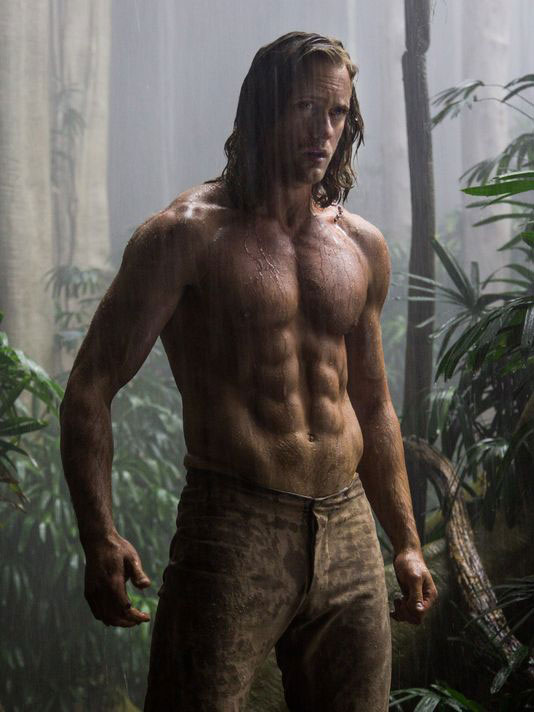 It's been a light week for new film trailers in terms of quantity, but that doesn't mean there's a shortage of quality.
We got another glimpse at the chiseled physique of Alexander Skarsgård in the latest "Wildness" trailer for The Legend of Tarzan, while we were also granted another look at Blake Lively fighting for her life in "The Beginning" trailer for The Shallows.
Breaking away from the trend, the comedy Yoga Hosers launched its first official trailer.
Here are the new trailers for this week:
1.) The Legend of Tarzan
2.) The Shallows
3.) Yoga Hosers
The Legend of Tarzan- Having adapted to civilization, Tarzan (Alexander Skarsgård) is now living a comfortable life in London as John Clayton III, a.k.a. Lord Greystoke. He's invited back to the Congo to serve as a trade emissary of Parliament, unaware that he's a pawn in a deadly convergence of greed and revenge, masterminded by Captain Leon Rom (Christoph Waltz).

The Shallows- Medical student Nancy (Blake Lively) travels to a warm vacation spot where she can get in plenty of surfing. After calling home to say she's arrived safely, she heads out on her board. She's suddenly grabbed by a great white shark and pulled underwater. Although she's bleeding from a number of wounds, she manages to get away to safety on a large rock 200 yards from shore. She tries to warn the other surfers that there's a shark, but it's too late. Now all alone, she has to figure out how to get back to land in one piece as the shark circles the rock.

Yoga Hosers- Two 15-year-old yoga nuts (Lily-Rose Melody Depp, Harley Quinn Smith) from Winnipeg join forces with legendary manhunter Guy Lapointe (Johnny Depp) from Montreal to battle an army of little monsters called Bratzis, which are foot tall Nazis made of Bratwurst. They're released when an ancient evil rises from beneath Canada's crust.