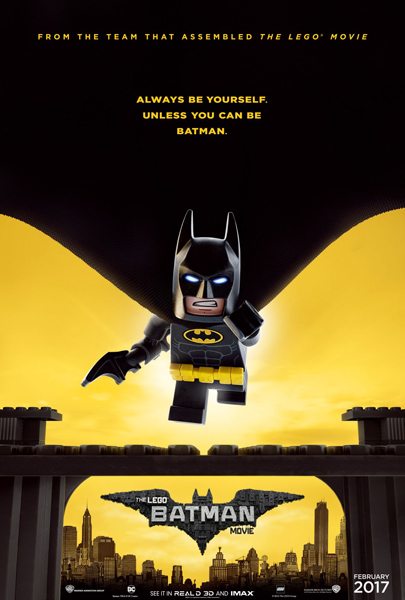 It was a weekend of spin-offs and sequels as several highly anticipated films finally hit the big screen: The LEGO Batman Movie, Fifty Shades Darker, and John Wick: Chapter 2. But it seems the caped crusader muscled out the other contenders and claimed the top spot at the box office this weekend.
After the success of The LEGO Movie, fans couldn't wait to see LEGO Batman get his own film, and this weekend's box office earnings of $55.6M and rating of 4.8 stars on Tribute.ca prove it. The film stars Will Arnett as Batman and co-stars comedian Zach Galifianakis as The Joker, Michael Cera as Robin, Ralph Fiennes as Alfred, and Rosario Dawson as Batgirl.
Taking second place was the Fifty Shades of Grey sequel, Fifty Shades Darker. The titillating romance between Anastasia Steele (Dakota Johnson) and Christian Grey (Jamie Dornan) brought in $46.8M and received a rating of 2.8 stars from Tribute.ca users.
Keanu Reeves isn't one to be underestimated as a box-office draw. The actor's portrayal of hard-hitting hired gun John Wick in Chad Stahelski's John Wick: Chapter 2 came in third and pulled in $30M at this weekend's box office. Tribute.ca users have given it a rating of 4.3 stars.
After three weeks at number one on the weekend box office charts, M. Night Shyamalan's Split dropped to fourth place, adding $9.3M to its earnings, making its current total $112.3M. The movie received a star rating of 3.1 from Tribute.ca users.
Rounding out the top five at the box office was the surprise hit Hidden Figures with weekend earnings totaling $8M in its eighth week for a gross of $131.5M and garnering a rating of 4.8 stars from Tribute.ca users. The inspirational true story chronicling the first female African-American mathematician Katherine Johnson (Taraji P. Henson) and her team's success in helping NASA compete with the Soviet Union in the "Space Race" continues to draw in audiences. ~Alexa Caruso