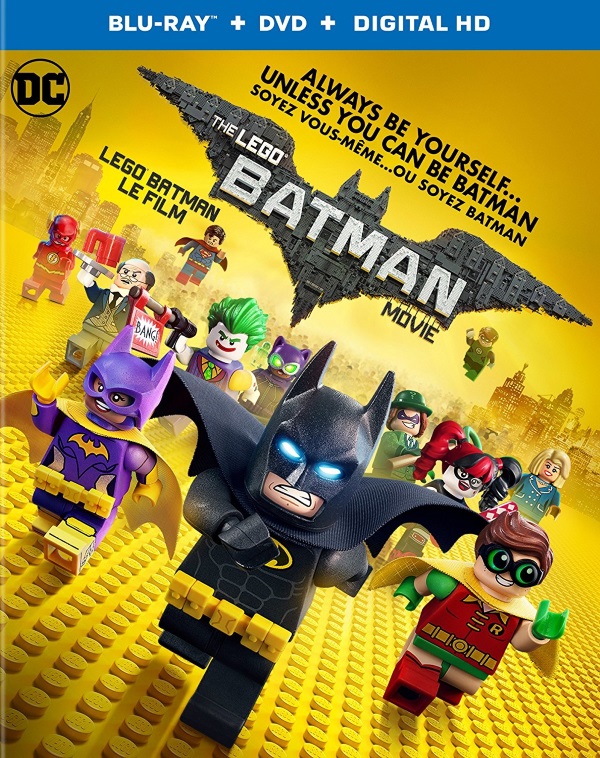 If you were a fan of The LEGO Movie then you were likely happy to see one of the characters — LEGO Batman — get his own standalone film, and you're probably even happier now that it's available on Blu-ray combo pack.
With a broody voice in the style of Christian Bale's Batman, and a serious case of sarcasm, Will Arnett's overly-confident Caped Crusader is forced to learn that sometimes, it's not all about him in The LEGO Batman Movie.
When his arch nemesis, the Joker (voiced by Zach Galifianakis), tries to convince Batman that their hero-versus-baddie bond is irreplaceable and necessary, he quickly learns Batman doesn't feel the same. A bruised ego gets the Joker bent on convincing The Bat that he needs him — and he knows just how to do it: by releasing the most evil of villains from the Phantom Zone onto Gotham!
Of course, Batman couldn't be bothered teaming with others because he's, well, Batman, and Batman works alone. But when he adopts a young orphan who becomes his sidekick, Robin (Michael Cera), and learns Commissioner Gordon is retiring and his daughter Barbara (Rosario Dawson) is taking over, Batman is going to have to learn to share the spotlight in order to save Gotham City.
The film is family-friendly (totally), funny (mostly), and has a good message: if you want to succeed, it's OK to rely on the kindness of others. Everyone possesses different strengths and, sometimes, two heads are better than one when you're trying to solve a problem… or save the city.
The film had me chuckling in parts, with my favorite being how the creators portrayed other famous film villains, many of which aren't even from the DC Universe! The various funny nods to Batman as a character in a larger canon were also comical. Batman is portrayed in an almost sarcastic light, poking fun at the character's own ridiculous aspects — like the fact that Batman always manages to do everything on his own (saving an entire city) without the help of anyone else, or that he can be both Bruce Wayne and Batman (and live on a secluded island!) and yet no one suspects one of being the other. It's also always fun to see things LEGO-ified, as I like to call it.
I also enjoyed the different dynamic shared between Batman and the Joker. Seeing them argue like two people in a relationship was funny. The Joker's attempts to get Batman to actually appreciate his villainy was endearing. It made for a lighthearted, on-screen match that you wouldn't have seen before between the two. And that's where this film probably works best: it's a different take on a slew of characters that many are used to seeing in a serious light.
My only criticism is that there's simply too much going on at once. You'll be watching a scene and quickly a multitude of other things will start happening. This effect likely keeps the attention of younger viewers with short attention spans, but for me, I felt like I was on some sort of psychedelic ride.
With that said, The LEGO Batman Movie is definitely a fun and entertaining ride, with plenty going on to keep you watching!
Special Features:
The Blu-ray combo pack includes a host of great extra features. In addition to the director and crew commentary, it also comes packed with four original animated shorts, four deleted scenes and six featurettes. It also comes with a free kids pass to LEGOLAND Resorts or Discovery Centers! ~Alexa Caruso
If you have seen The LEGO Batman Movie yourself and would like to rate/review it, please click here.