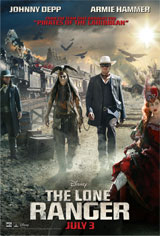 In this behind the scenes featurette, the crew of The Lone Ranger talks about training and working with the four horses that play Silver, the Lone Ranger's trusty steed.
The Lone Ranger tells the story of Native American warrior Tonto (Johnny Depp) and man of the law John Reid (Armie Hammer),  opposites brought together by fate who join forces to battle greed and corruption.
The Lone Ranger opens in theatres July 3.