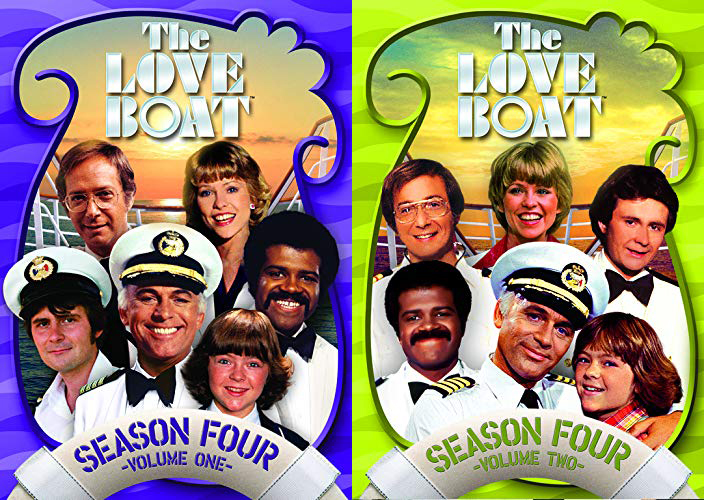 A variety of classic TV shows have been releasing on DVD over the past few years, which is good news for fans of older TV series, either because they love classic TV and want to see shows they never had a chance to watch, or because these shows bring back fond childhood memories.
The Love Boat: Season Four releases today on DVD in two volumes. I remember watching The Love Boat as a child and was intrigued about seeing it again. I hadn't seen it since it aired on ABC on Saturday nights and I remember being thrilled when a favorite celebrity was a guest star.
The guest stars were an important part of each episode. The series was such a hit that it was able to land Oscar winners such as Lillian Gish, who had been a star since the silent era, and Janet Gaynor, who was the winner of the first Best Actress Oscar in history for her work in three films (7th Heaven, Street Angel and Sunrise). She was later nominated for her lead role in the original A Star is Born (which has been remade many times since, including the current version starring Lady Gaga and Bradley Cooper).
In the episode Gaynor guest-starred in, she was paired with fellow classic movie star (and Oscar-nominee) Lew Ayres, who was her co-star in the 1933 movie State Fair. They played a married couple on The Love Boat, and displayed a photo of the two of them from State Fair as their wedding photo.
These kinds of nods are fun to pick up on, and the celebrities from the 1970s and '80s — who were on series that were concurrently airing or had recently ended — were also a lot of fun to watch. The Partridge Family's David Cassidy, The Brady Bunch's Maureen McCormick and Florence Henderson, Little House on the Prairie's Melissa Sue Anderson, Alison Arngrim and Karen Grassle all played roles in the fourth season of The Love Boat, as well as actors from M.A.S.H., Knots Landing, Baywatch and more.
Betty White and her husband Allen Ludden played a married couple, and a very young Tom Hanks, who had just been cast in a starring role on the ABC-TV sitcom Bosom Buddies, made a guest appearance as Purser "Gopher" Smith's (Fred Grandy) old fraternity brother on the season four premiere episode.
Each episode featured the love lives of the passengers aboard The Love Boat. Some scenes each week were actually shot on a ship owned by the Princess Cruise line. The show posted its highest rating during the fourth season in 1980. It enjoyed a run of nine seasons from 1977 to 1986, with several special episodes airing in 1987.
In 1997, TV Guide magazine ranked The Love Boat Season 9 episode titled "Hidden Treasure/Picture from the Past/Ace's Salary" at No. 82 on their list of 100 Greatest Episodes of All Time.
The Love Boat: Season Four doesn't disappoint. Sometimes when you rewatch a TV show you loved as a child, it doesn't live up to your memories, but The Love Boat is just as enjoyable to watch as it was when it first aired. The comedy still works and the camaraderie of the regulars (Gavin MacLeod as Captain Stubing, Bernie Kopell as Dr. Bricker, Fred Grandy as Gopher, Lauren Tewes as Julie McCoy, Ted Lange as Isaac Washington and Jill Whelan as Vicki Stubing) is evident.
The Love Boat: Season Four is now available on DVD in two volumes, priced at $30.50 each at Amazon.ca. Click here to buy The Love Boat: Season Four Vol One and click here to buy The Love Boat: Season Four Vol Two. Special extras are limited to episode promos and each volume contains four discs with a total of 11 to 14 episodes. ~Alexandra Heilbron