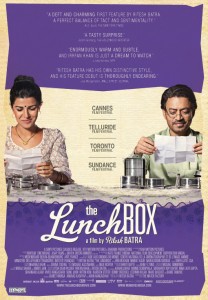 In the hustle and bustle of everyday life comes a story of two unhappy individuals who find solace with each other in the film, The Lunchbox. This is a bittersweet story of romance between two lonely strangers who find a way to share their joys, fears and memories with someone who understands them better than their close ones.  Before watching the movie you should know that in Mumbai, dabbawallahs (lunchbox deliverymen) deliver lunch boxes to working men and women. Only one in a million deliveries ever get mixed up. This story is about that one mix up and the bond that develops between two strangers.
The movie centers on a lonely housewife named Ila (Nimrat Kaur) who, in an attempt to gain her husband's attention, starts pouring her heart into preparing delicious meals for him, but when the lunchbox always come back with food still left inside, she realizes her husband doesn't like what she's prepared, and tries something new. After several tries, when the lunchbox finally comes back empty, she asks her husband if he liked the lunch. When he describes food that she didn't include, she realizes he isn't the one who ate the lunch. She sends a note in the next lunchbox thanking the recipient for enjoying her food and sending back an empty lunchbox, which gave her a few moments of happiness. On the receiving end of this mix up is Saajan (Irrfan Khan), a lonely man on the verge of retirement. Ila and Saajan then start sending notes back and forth and opening up to each other through the lunchboxes – discussing their loneliness, fears and daily joys.
The movie has a simple storyline with a very simple message: sometimes you can form an instant connection with the least expected person, even a  complete stranger. Without over-the-top scenes or dialogue, the film is sprinkled with emotions that unravel between these two people throughout the film. Irrfan Khan masterfully portrays the begrudging, nearly-retired man who has no one to look after him but is reawakened with those letters. For her part, Namrat Kaur brilliantly plays the young housewife who is hungry for appreciation from anyone, if not her husband. She adds a brilliant comical touch with her dialogue while relating to neglected wives.
In his first feature, writer-director Ritesh Batra has outdone himself and serves a romantic dish blending poise and emotion with a pinch of comedy. I not only enjoyed watching the relationship develop between the characters but also rooted for more. The movie may be slow-moving but the roller coaster of emotion will keep you captivated throughout. Special features include a commentary track with writer/director Ritesh Batra.
Other films out on DVD, Blu-ray and/or VOD this week: Bad Words, The Lunchbox, The Raid 2: Berandal and Jodorowsky's Dune. For a full list of home releases, click here. ~ Marriska Fernandes