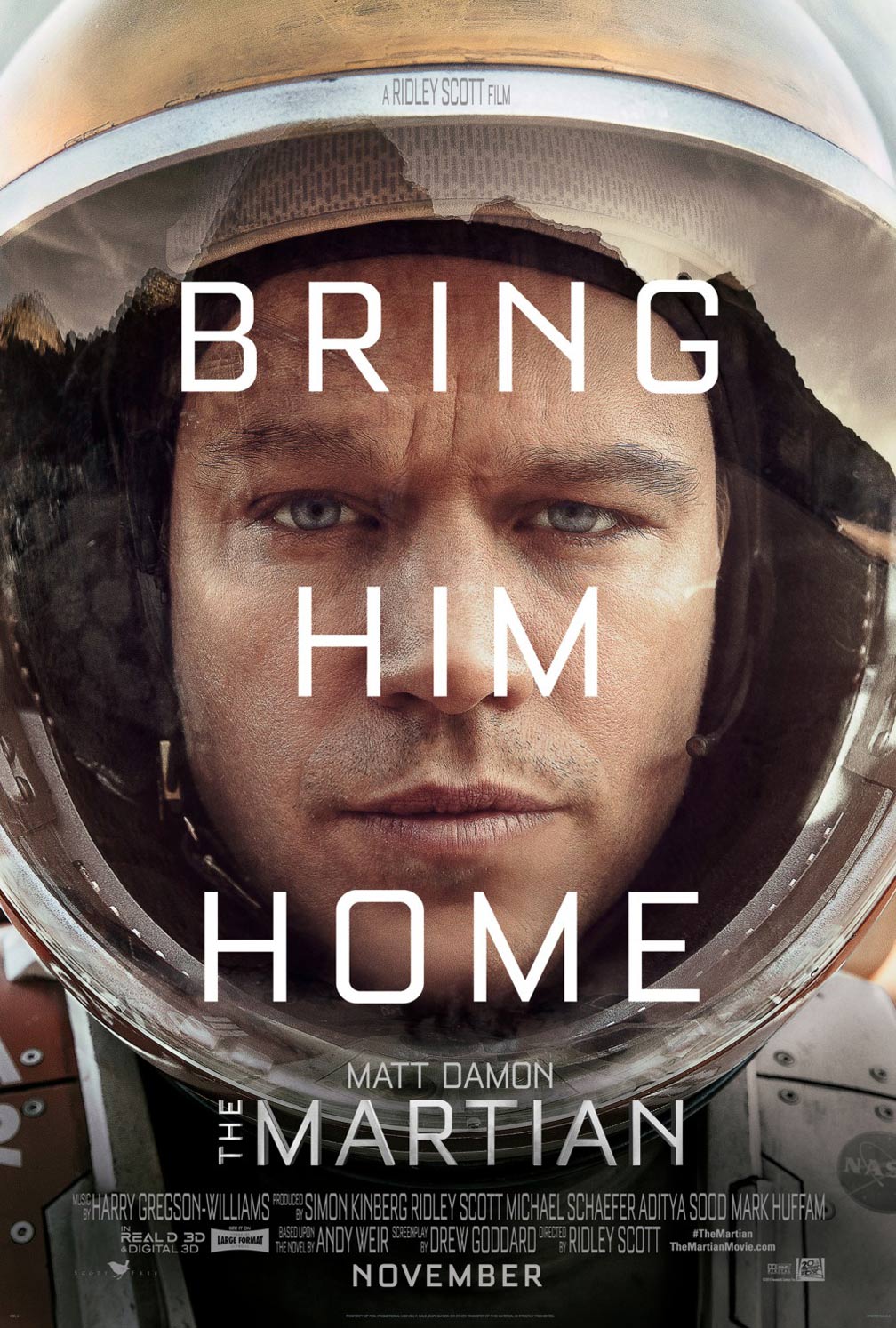 New trailers this week include the highly anticipated space drama The Martian from director Ridley Scott, in which a mission to Mars goes wrong and one astronaut is left on his own to fight for survival.
Other films include Burnt starring Bradley Cooper, about a man pursuing a career as an elite chef in Paris, but the personal and professional toll may be too much.
Also this week the first trailer was released for Carol, a story of forbidden love, set in the 1940s. ~Greg Chisholm
1. The Martian
3. Burnt
4. Carol
5. Sicaro
7. The Witch
8. Trumbo
10. Ride Along 2
The Martian – When things go badly on a trip to Mars, astronaut Mark Watney (Matt Damon) is thought to be dead. His crew leaves him behind and when Mark comes to, he finds himself alone on the Red Planet. With limited supplies, he must figure out food, shelter and water while trying to communicate with NASA. If he can't reach them, he faces certain death.

The Hateful Eight – Years after the Civil War, eight westerners seek refuge in a stagecoach for shelter in the snowy mountains during a blizzard in Wyoming.
Burnt – Adam Jones (Bradley Cooper) is a washed up chef who decides to take a go at running his own restaurant. He wants to create the best restaurant in the world and has to battle his personal demons along the way to success.

Carol – Carol Aird (Cate Blanchett) is shopping at a department store for a gift for her seven-year-old when she catches the attention of young employee Therese Belivet (Rooney Mara). The two begin an affair together.

Sicaro – F.B.I. Agent Kate Macy (Emily Blunt) is brought into the world of international drug cartels and will work with a new team on a plan to take down a famed drug lord.

Victor Frankenstein – Victor Frankenstein (James McAvoy) is a mad scientist who is determined to find a way to bring dead tissue back to life once again. With help from his assistant and brilliant protégé Igor Strausman (Daniel Radcliffe), the two find success bringing back an animal and go on to try and create a man, but instead they create a monster.

The Witch – When a Christian family from New England find their crops failing, things seem grim. When their youngest child goes missing they begin to turn on each other. As tensions rise, the family leaves their lives open to a great evil.

Trumbo – Dalton Trumbo (Bryan Cranston) is a successful Hollywood writer in the 1940s whose career is crushed when other Hollywood figures are being blacklisted for their political beliefs. This tells the story of his fight against the government and studio bosses over a war of words, targeting well-known Hollywood professionals of the era.

Every Thing Will be Fine – After a fight with his girlfriend, Tomas Eldan (James Franco) finds himself driving aimlessly around the countryside to relax. He accidentally hits a child and kills him. For years after he is plagued by the fact that he accidentally ended a life and uses his writing to help distract him from his own grief.

Ride Along 2 – New police academy graduate Ben (Kevin Hart) tags along from Atlanta to Miami with James (Ice Cube) to track down a fugitive criminal (Ken Jeong) just hours before Ben's wedding to James' sister.