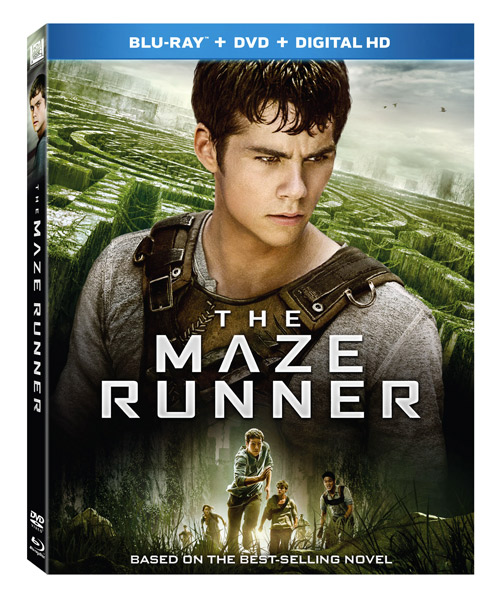 The Maze Runner is an action-packed ride with Teen Wolf's Dylan O'Brien delivering a great lead performance as Thomas. When the story begins, a young man (O'Brien) finds himself on a moving elevator with no memory of who he is or how he got there. When he emerges he discovers a mysterious place called The Glade, populated by a large group of young boys with no memories who are trapped from all sides inside a dangerous maze. As Thomas learns more about this world and the boys who call themselves Gladers, he finds himself compelled to journey into the maze and find a way out.
One problem: During the night the maze is full of deadly slug-like creatures called Grievers with stingers that turn Gladers insane before killing them. It's up to a select few boys called the Runners who are willing to venture into the maze during the day to map out the exit.
One day the group's leader, Alby, and lead Runner Minho find themselves trapped in the maze overnight. Defying all rules and logic, Thomas steps into the maze at the last minute in an attempt to save them. Thomas teams up with Minho to protect a stung Alby and, for the first time in Glade history, they manage to kill a Griever. The two discover a strange mechanical part inside the monster, giving them the first clue in solving the mystery of the maze. Once discovered, a girl (Kaya Scodelario) is sent into the Glade, signalling the beginning of the end.
One of the film's strengths is the mystery itself. We're never given any more information than the Gladers themselves, which gives us a chance to feel their confusion and anxiety as we puzzle over the secrets of the maze. Unfortunately, that strength is also a weakness when it comes to book readers, who already know about WCKD and the truth about the Glade. Regardless, The Maze Runner is a strong contender in the growing number of Young Adult dystopian stories such as Divergent and The Hunger Games.
The two-disc combo pack has two hours of bonus features, including a gag reel, audio commentary by director Wes Ball and screenwriter T.S. Nowlin, deleted scenes and a five-part documentary series about the making of the film.
The Maze Runner is out on DVD and Blu-ray today. Other titles released this week include Teenage Mutant Ninja Turtles, This is Where I Leave You, Horns, Corner Gas: The Movie, The Immigrant, The Skeleton Twins, Magic in the Moonlight and Stonehearst Asylum. ~Kelly Townsend