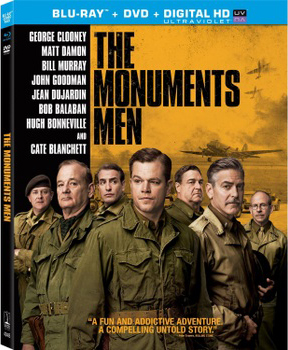 George Clooney's The Monuments Men tells the story of a team of the misfits from America and Europe who, united by their love of art, are sent to the battlefields during WWII to save artistic masterpieces – paintings, sculptures, books etc. – from the Nazis. Based on a true story, the movie differs from other WWII motion pictures, focusing on a group who are rarely mentioned for their heroic deeds.
Having proven himself as an accomplished director with movies like The Ides of March and Good Night, and Good Luck, Clooney's Monuments Men sends a clear message – if you destroy people's culture, they will cease to exist, and that this is a cause worth dying for. However, when Clooney, as art historian Frank Stokes, delivers speeches every now and then about the immeasurable value of art to the world, they eventually start to feel like lectures to an audience who has never heard of Renoir, Rembrandt or Michelangelo. The director also seems to be uncertain about the tone of his movie, taking the edge off both the drama and the comedy.
The Monuments Men cast consists of A-list actors: Matt Damon, Bill Murray, John Goodman, Jean Dujardin, Bob Balaban, Hugh Bonneville, Cate Blanchett and, of course, the director and co-writer himself. Funnymen Murray and Balaban's odd and amusing pairing; Goodman's gruff but lovable sculptor; Damon's art expert James Granger (whose attempts at speaking French result in his continuously being asked to speak English); and the leader of the platoon, Stokes, who resembles Clark Gable, are definitely going to be a treat for the audience. Blanchett as Claire Simone delivers the strongest performance. She portrays a believable French curator, reluctant at first to participate in an Allied scheme to rescue stolen works of art in the closing stages of war.
Special features include George Clooney's Mission, which includes interviews with Clooney and the cast about making of the movie, and Marshalling the Troops, a cast discussion about the real people they brought to life on the screen. Also, exclusive on the Blu-ray are Deleted scenes; The Real Monuments Men: In Their Own Words, featuring an interview with Harry Ettlinger on the last surviving real Monuments Men; and a featurette A Woman Amongst the Monuments Men with Cate Blanchett talking about her character Claire Simone. Other home releases this week include: 3 Days to Kill, About Last Night, Pompeii, Vampire Academy and Stay. For a complete listing of DVD releases, click here.  ~Alexandra Sharova