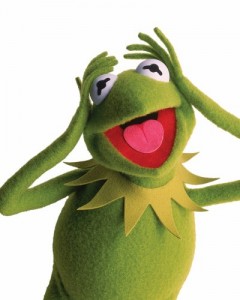 It's time to play the music, it's time to light the lights, because the Muppets are back!
It may be over a decade since they've been on the big screen but they still know how to draw a crowd. Kermit the Frog fielded questions from a packed room of excited media guests, as he rolled through Toronto with co-star Jason Segel earlier this week. The pair was in town promoting their new film, The Muppets, which hits theaters November 23.
The idea to bring the furry friends back in the spotlight began with Segel, who teamed up with his Forgetting Sarah Marshall director Nicholas Stoller to pitch the idea to Disney. "The Muppets were my first comic influence and I was in love with puppetry," says the actor. "I just thought it was an amazing art form." When Disney picked up the idea, Segel and Stoller began writing the script.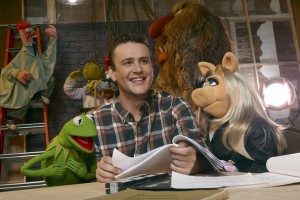 Segel also stars in the film as Gary, whose brother Walter is the self-proclaimed world's biggest Muppets fan. Gary and Walter, along with Gary's girlfriend (Amy Adams), set out to save the now-abandoned Muppets Studio from being destroyed by the money-hungry oil tycoon, Tex Richman (Chris Cooper). Their plan is to reunite the puppet performers for one last show to stop Richman, but it won't be easy considering they've all been off doing their own thing since their last performance together. Even Kermit has settled comfortably into ordinary pond life. But when he realizes how much he misses his friends, Kermit hops on board to help track down the rest of the Muppet gang, including his longtime love Miss Piggy. "The scene where Kermie begs me to come back to Hollywood with him is the funniest scene in the movie," says the diva pig. "I'm hilarious, and the frog isn't half bad either."
In keeping with tradition, the newest addition to the Muppets franchise will feature cameos by a string of famous faces including Jack Black, Neil Patrick Harris, Selena Gomez, Emily Blunt, George Clooney, and Mila Kunis. Audiences will be able to dance and sing along to old favorites as well as original numbers, including a finale so grand it shut down Hollywood Boulevard for two days. "It's a pretty good movie," Kermit said at the Toronto press conference. "And it brings people together. That's what we like to do." ~ Soriyya Bawa