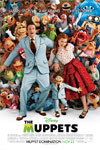 Check out this new trailer for The Muppets, which spoofs the teaser trailer for The Girl With the Dragon Tattoo.
When Walter, the world's biggest Muppet fan, and friends Gary (Jason Segel) and Mary (Amy Adams) discover the nefarious plan of oilman Tex Richman (Chris Cooper) to raze the Muppet Theatre, they help Kermit reunite the Muppets to stage The Greatest Muppet Telethon Ever and raise the $10 million needed to save the theatre.
The Muppets hits the big screen November 23, 2011.