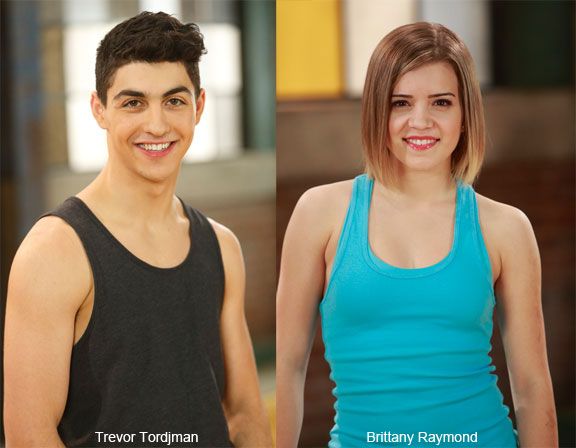 The hit Family Channel series The Next Step returns for a third season on Monday, March 16 and we had the chance to talk to two of the stars. Trevor Tordjman and Brittany Raymond, who play newly reunited couple James and Riley on the show, took time out from their cross-Canada tour to answer our questions about their fans, what it's like to be a dancer and what they like best about being on the show.
How are you enjoying The Next Step Live On Stage cross-country tour?
T: It's amazing. We're about halfway through now. It's a new experience for us, we've never performed on stages in theatres, really. It's amazing to actually see our fans in person and see them react to a performance.
Do you get a lot of fan mail?
T: We get quite a bit of fan mail.
B: We also get stuff through social media. That's usually where all the fans try to connect with us.
Are all the dances choreographed or sometimes do you have to improvise?
B:We do have a lot of of group choreography where we have a choreographer set something for us. And then a lot of the times where we have a little solo section, we'll just kind of improv our own thing.
Trevor, when did you first start dancing?
T: I started dancing when I was four years old. My mom owns a dance studio in Kitchener, Waterloo. It's about an hour west of Toronto. She just put me in dance when I was very young and I just grew up dancing.
I saw a music video you did before The Next Step. How did you get into that kind of thing?
T: I got an agent when I was about 12 or 13 years old. They saw me at a dance competition performing and asked me to come audition for them, so I did. Then they started to send me calls for auditions and work opportunities.
Brittany, when did you start dancing?
B: I started at the age of about four. Three or four.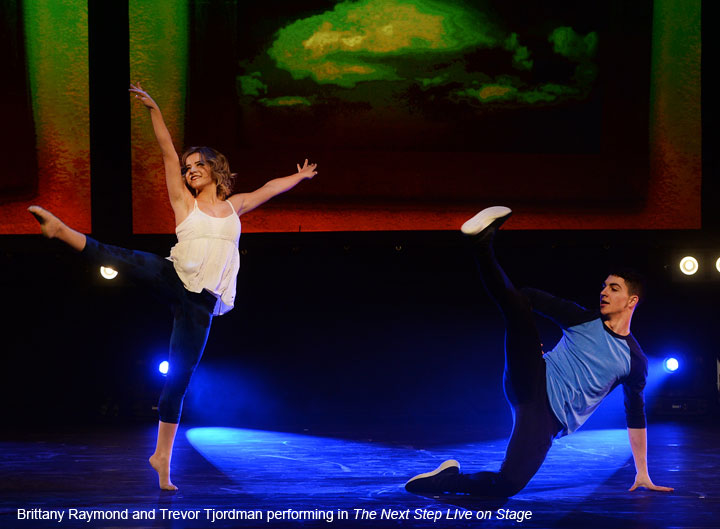 When did you realize that was something you'd like to do as a profession?
B: I honestly can't even remember, I just remember loving dance. That was always my first passion, I had never really wanted to do anything else. I think when I started, I always wanted to be a dancer.
Have either of you ever had acting lessons?
B: I know for myself, going into the show I never had any acting lessons, but since we started I've definitely kind of trained in acting a little bit, for sure.
T: Same with me. I had some little jobs that I did that required a little bit of acting, but nothing on the level of The Next Step, so I'm in the same boat as Brittany.
I have to say you guys are doing a great job. Your characters are totally believable and you're just so natural on camera.
T: Thank you so much.
Your scenes together are so much fun to watch. The relationship between James and Riley. Is it fun to film those?
T: Yeah, definitely. I mean filming the whole show is so fun for us because always new things are happening, so it's such a cool experience.
What's the most fun that you've had so far on the show?
B: That's a very hard question. We always have the most fun with each other every day.
T: I really like filming the big competitions that we have at the end, So, for example, Nationals at the end of season two was so much fun to film because we're on location, we're in an actual theatre, there's an actual audience watching us. It's always a lot of fun.
Is it more fun to do the dance scenes or the acting scenes?
B: For me, I was always the most nervous in season one for the acting scenes, but since we've become more comfortable with that, I can now say that they're both equally fun for me.
T: I would have to say the same thing. They're both equally fun, but again, it does depend on what I'm doing. There are some dances in particular that I love to do and would rather do the dance, but then there's also some scenes that are really, really fun.
Are dancers very competitive in real life like they are on the show?
B: They can be, but it's not to the extent of the show.
Is there competition between cast members?
T: No. If there's ever any competition between cast members it's friendly competition. It's never been something negative.
For the acting part, what's harder: when you're playing a scene with other cast members or when you're doing the on-camera interview scenes?
T: I would have to say the on-camera interview scenes. Because when you're acting with other people you can work off of each other and that really helps, when you're in the scene with other people. For me at least, it's more difficult doing the on-camera interviews.
B: Same with me.
How do you do those amazing flips? Can you become a dancer without being able to do flips? It seems like everybody can do those.
T: No, you can definitely be a dancer without flipping.
But everybody on the show can do them?
B: Somewhat, yeah. I mean, personally myself, I can only really do one kind of flip, but I'm nowhere near where the boys are at, for sure. The buys, that's definitely their thing.
How did they pick which cast members would go on tour?
B: They can't bring everyone on tour, some people are busy, they're in school, so it's kind of hard to work around everyone's schedule. But the people they picked for the tour were characters who all the fans already know and relate to and who are available to do a tour.
Trevor, in the third season, you get to show off your skills as a drummer. Do you drum in real life?
T: I do, yeah. I used to drum a lot when I was young, but as I started to take dance more seriously I stopped drumming a bit. I'm really happy that they're involving it with the show because I'm getting back into it.
Did they write that into the show because they knew that you were a drummer?
T: Yeah, I believe so. They knew that I was a drummer, so they knew that I wouldn't have to train to become a drummer.
How long does it take to do one episode?
B: It takes a day and a half to film one episode, I think. We move really fast.
Do you get a rehearsal before that? What's the process from beginning to end?
B: We rehearse all of our dances beforehand for a few weeks, or something like that, then once we film scenes and stuff it's really just we read the scripts once and then we just kind of do it. It's been a very fascinating process for sure.
That must be tough.
T: It was definitely tough at first.
When you were little, how many dance classes did you take a week? How many hours did you devote to dance?
T: A lot.
B: For me, it started off less and it got more and more as I got older. From what I remember, up to 30 or 40 hours a week or something like that.
T: I'd pretty much be in the studio every day. Probably six days out of the week.
Because you loved it?
T: Yeah. Totally. It didn't feel like I was actually working. It felt like fun to me, just something that I love to do.
Did you start with one type of dance and then move from there?
T: I started with everything.
B: I started with ballet and kind of worked my way up.
And what's your favorite type right now?
T: Right now I love hip-hop and breakdancing.
B: For me, I definitely love contemporary, but hip-hop's also a number one for me as well.
When you're not doing the show, do you still work on dance or are you at the point where you don't really need to practice?
T: I still am practicing dance, but once again I want to go take a dance class because it's fun. So, yeah, I'm still training always.
B: I definitely train all the time, as much as I can just because with dance it's something that you really have to keep working on because you will lose it very easily. Especially when you get older.
Do you both think that you'll be dancing for the rest of your lives?
B: I think I would love to be dancing for the rest of my life, but I do know at some point once I hit a certain age where my body will not be able to do some of the things that I can do now, but I will definitely go for as long as I can.
T: I'll be dancing for as long as I possibly can. With a walker I'll still be grooving.