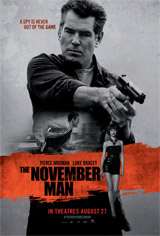 Brosnan's back! No, it's not Bond, but something like it. Pierce Brosnan returns to the spy game with a vengeance in The November Man.
Based on the espionage thriller There Are No Spies, the seventh novel in Bill Granger's November Man series, the ex-Bond plays ex-CIA agent Peter Devereaux, who is lured out of retirement for one last mission: to find and protect Alice Fournier (former Bond girl Olga Kurylenko), the manager of a women's shelter whose profession and past may hold the information needed to expose the pedophiliac Arkady Federov, Russia's President-Elect. (Why do movies make retirement so impossible?) For reasons bigger than Devereaux and Fournier, there are political forces at work trying to keep them at bay. It's the kind of conspiracy that will have you seeing red, and I'm not just talking about blood here.

When things get personal, Devereaux's hunted by the very people he used to call his colleagues, including his former protegé, David Mason (Luke Bracey), a sniper with a wicked kill shot but a bad habit of disobeying orders.
One thing the film has going for it is the mentor-protegé relationship between Devereaux and Mason. In more ways than one, their confrontations are explosive, and Mason is an interesting addition to the story as a shamed student who takes his education to heart. The power/intellect dynamic may be the only aspect of The November Man that separates it from other similar films, although director Roger Donaldson doesn't mine the theme very deep.
Still, the film is full of exciting set-pieces, from a drone-covered car chase through Moscow to more intimate moments of violence, including a home invasion in Serbia. After all these years, Brosnan remains convincing as a gun-toting secret agent, except this time around, he has a few more grey hairs to show for it. As for Peter Devereaux, the poor devil, he's not getting paid overtime, that's for sure.
The November Man opens August 27. For showtimes, click here. ~Daniel Horowitz