The Boleyn sisters and King Henry VIII
The life of a member of the royal court can be dangerous and treacherous, to say the least. Mary Boleyn learned early in life how costly a misstep could be. By the time she was in her mid-teens, she was married to a gentleman named William Carey and having an affair with King Henry VIII of England, who would go down in history as the king who took any measure to get rid of wives as soon as he grew tired of them. Mary became pregnant, with what many historians believe was Henry's son. When he was born on March 4, 1526, she named the boy Henry. His resemblance to the king was unmistakable.
But by 1527 the king had transferred his passions to Mary's sister Anne. Anne refused to give in to an affair with the king, having learned from her sister's mistakes. She wanted to be Queen. Henry came up with a solution. He would divorce his wife, Catherine of Aragon. They'd been married for over 20 years, but Catherine had been unable to produce a male heir – their only son had died at two months.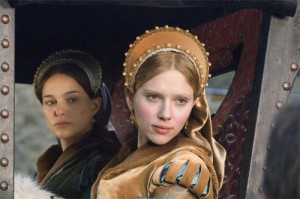 One problem remained – Catherine of Aragon did not want a divorce. In 1532, Anne finally gave in to Henry's affections. When it was determined she was pregnant, he was forced into action to make sure the child would be legitimate. He obtained an annulment and in January 1533, Anne and Henry were married. She gave birth to a girl, named Elizabeth, who would go on to be the great ruler, Queen Elizabeth I. Mary, meanwhile, became a lady-in-waiting to her sister.
When Mary's husband died, she was shunned by her parents and by the court. King Henry VIII granted custody of her son to Anne. Anne gave birth to a stillborn son in 1536. Meanwhile, Henry had fallen for a young gentlewoman named Jane Seymour. Later that year, Henry had Anne arrested for treason and adultery. One of the men she was accused of having intimate relations with was her own brother, George. She was also accused of witchcraft. Both she and George were found guilty and beheaded.
Henry VIII would go on to have six wives in total. Jane Seymour died after giving birth to Henry's first legitimate son, Prince Henry. Henry then married Anne of Cleves in 1540, but had the marriage annulled later that year. She was given an honorary title as well as Hever Castle, formerly Anne Boleyn's childhood home. Henry, then 49, married Anne Boleyn's cousin, 19-year-old Kathryn Howard. Accused of adultery, Kathryn was executed on February 13, 1542. Henry married Katherine Parr on July 12, 1543. Katherine had been in love with Thomas Seymour, Jane Seymour's brother, but when the King requested her hand, she felt it her duty to accept. Members of the court plotted to have her arrested and executed on charges of heresy, but she played to Henry's ego and managed to avoid execution. After Henry's death in January 1547, Katherine married her longtime love, Thomas Seymour, and took guardianship of Princess Elizabeth (Anne Boleyn's daughter).
And what of Anne's sister, Mary Boleyn Carrey? She married again and lived until 1543, escaping the fate of her brother and sister. After her parents' deaths, she inherited Boleyn property in Essex. Her daughter Catherine gained royal favor and was one of her cousin Elizabeth's closest friends. Elizabeth ascended to the throne 22 years after her mother was executed. A Boleyn was not only the Queen, but the sole ruler of England, thanks to Anne's insistence on marrying the King.