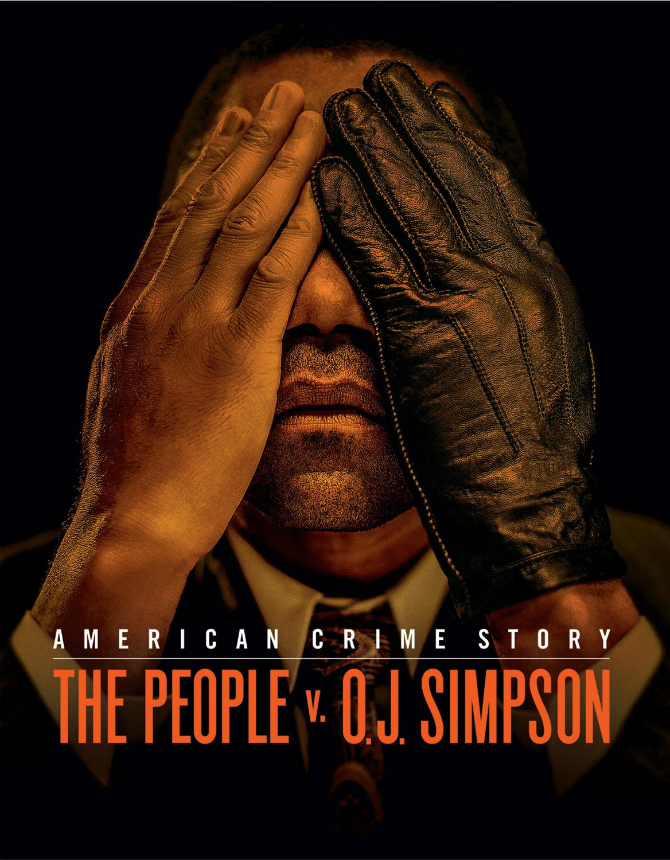 The People v. O.J. Simpson: American Crime Story is a 10-episode limited series that details the story of what became known as the "Trial of the Century."
I watched most of the O.J. Simpson trial in 1995, and I read the book If I Did It, written by O.J., in which he chillingly describes in detail how he would have committed the murders of Nicole Brown and Ron Goldman "if he had done it." I thought I knew all about the trial and the murders. After watching this series, I realize I didn't know the half of it.
Despite the obvious, clearcut evidence that pointed to O.J. as the murderer, despite the case apparently being cut and dry, the defense team shamelessly resorted to an endless number of tricks and diversions to confuse the jury. They were successful in their tactics and watching the dramatization, I was even more appalled about the outcome than I was when the verdict was first announced.
Sarah Paulson's performance as lead prosecutor Marcia Clark is absolutely astounding. She brings out all the strength we saw in Marcia Clark throughout the trial, but also her doubts, her frustration and her hurt as the media relentlessly torments her. Every aspect of her appearance is ridiculed, from her wardrobe to her hair (she cuts it in response and gets even more ridicule). She's called an aggressive bitch, for the same qualities that are celebrated in men.
Sarah gives us the Marcia Clark we saw in the courtroom, but also gives an emotional portrayal of what she must have gone through as she struggled to take care of her kids, go through a divorce simultaneously with a backstabbing husband and navigated the trickery dealt by the "Dream Team."
It becomes clear how, if you have money as O.J. Simpson did, you can beat even the most obvious, cut-and-dry murder charge if you hire the right team of lawyers. After the not guilty verdict, Marcia's partner, prosecutor Chris Darden, tells Johnnie Cochrane, the arrogant leader of the defense, "All the people saw was how well you can twist the system. You haven't changed anything for black people. Unless of course you're a famous and rich one in Brentwood."
Apparently, Johnnie Cochrane, who was understandably outraged at the way he and other members of the black community in Los Angeles were treated by police, wanted to make a point. This takes place just two years after the Rodney King verdicts, in which four white members of the LAPD were acquitted of brutally beating King. Cochrane believed the police were prejudiced and that they should not get the chance to put another black man behind bars. He wanted to make a statement to police that they could not continue to treat black people inhumanely. It's a worthy and necessary cause. But more than 20 years later, we can see the O.J. Simpson not guilty verdict had no bearing on police brutality of black people. It still goes on. What it did was let a very wealthy rich black man who lived in a white neighborhood, who was adored by whites and blacks alike for his achievements on the football field and in movies, go free when it was clear he committed the brutal murders.
In the role of O.J. Simpson, Cuba Gooding, Jr. is somewhat smaller than O.J. Simpson himself, which made him less physically menacing, but he did a wonderful job of portraying how unbalanced, narcissistic, egotistical, quick to anger and conniving O.J. was. As Cuba says in the special extras, during some scenes he played the role as if O.J. had been innocent, and sometimes as if he were guilty. Because of course, O.J. would have been trying to convince people he was innocent and at times, he succeeded. But even his best friend, Rob Kardashian, realized the truth as the events of the trial unfolded. And there's a very telling scene as Kardashian picks O.J. up at prison after the not guilty verdict, in which O.J. says he has a surprise for him.
There were only two performances that seemed off to me. David Schwimmer played Kardashian as a wide-eyed, weak nitwit. He was so overdramatic in every single scene he was in that I found myself watching him in disbelief. The second performance that didn't ring true to me was John Travolta as Robert Shapiro. I watched the trial and didn't find that either of those two men stood out as being peculiar. They were business-like lawyers to my eye. Travolta played Shapiro as if he was a pompous clown, whom nobody had any respect for, despite the fact that he began the case as lead lawyer of the defense team.
Despite these two performances, the story is fascinating and eye-opening and I would recommend it to anyone, whether you saw the original trial (and were mesmerized by the Bronco freeway chase), or if this is something you've never heard of (because you were born in the 1990s or later, or were living under a rock in a far-away land). It was a trial that captured the attention of over 100 million North Americans at the time. Everyone was watching the trial and talking about it. There were people who believed O.J. to be innocent and others who were certain he was guilty.
Either way, this is a riveting account of what went on behind the scenes. It doesn't say definitively that O.J. was guilty — for instance, we don't see him commit the crime — but if you look at the overwhelming evidence and the amount of scheming perpetrated by the Dream Team, it becomes clear what happened on the night of June 12, 1994.
Special features include a behind-the scenes featurette Past Imperfect: The Trial of the Century and Facts of the Case: An Interactive Timeline.
If you have seen The People v. O.J. Simpson: American Crime Story and would like to write your own review, click here.