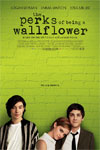 The Perks of Being a Wallflower is a beautiful coming-of-age tale based on the 1999 bestselling book by Stephen Chbosky. The story takes place during the early 1990s when letter writing, vinyl records and mixed cassette tapes were still an everyday occurrence. The main character, Charlie, in his freshman year at high school, meets a group of wallflowers much like himself. He becomes best friends with Patrick and his stepsister Sam, with whom he falls in love. We see the characters grow and experience love, loss, distress, courage and the bonds of friendship.
Emma Watson does a phenomenal job as Sam, a funny and outgoing young high school senior. I almost didn't recognize the actress who rose to fame as the uptight but brilliant Hermione Granger in the Harry Potter franchise. The chemistry between Emma and her castmates Ezra Miller (Patrick) and Logan Lerman (Charlie) was highly believable and enjoyable to watch. I sighed during the many beautiful and heart-wrenching scenes shared between Sam and Charlie, including when Sam announces, "I want to make sure that the first person you kiss loves you, okay?" And when Sam and Patrick announced Charlie's acceptance into their Band of Misfits, I cheered.
The film balances the humorous antics of Sam and her stepbrother with the underlying controversial topics portrayed in the film – abuse, sexuality, teen suicide and drugs.
The DVD includes several special features including two different options for audio commentary. The first includes comments by writer and director Stephen Chbosky, and the second is with Chbosky and The Band of Misfit actors: Watson, Miller, Logan, Johnny Simmons, Mae Whitman and Erin Wilhelmi. You can even go behind the scenes with the actors and writer in "The Best Summer Ever" and treat yourself to deleted scenes. For anyone who believes in love, friendship or knows what it's like be a loner, this film will become an immediate favorite.
Perks of Being a Wallflower is available today on DVD (February 12). Other new releases this week include Bully, Inescapable, The Man With the Iron Fists, Skyfall, and Silent Hill: Revelation. ~Brittnee Fleming