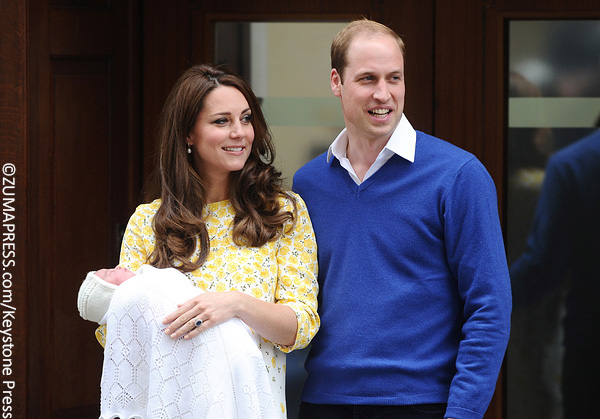 Kate Middleton and Prince William have named their daughter Charlotte Elizabeth Diana.
Kensington Palace announced the news today in a statement saying, "The Duke and Duchess of Cambridge are delighted to announce that they have named their daughter Charlotte Elizabeth Diana. The baby will be known as Her Royal Highness Princess Charlotte of Cambridge."
These classic names have many ties to the Royal family as well as Kate's family. Charlotte is the middle name of Kate's sister Pippa as well as the name of William's cousin, Lady Charlotte, and the feminine form of Charles. Elizabeth is the name of the baby's great-grandmother, the current Queen of England, and is also the middle name of the baby's grandmother on Kate's side, Carole Middleton. Lastly, the very touching tribute to William's late mother, Princess Diana.
The newest bundle of joy was born in London at St. Mary's hospital on Saturday morning at 8:43 BST, weighing 8 lbs. 3 oz. With the streets filled with excited onlookers and tons of media, the parents made their first appearance with baby Charlotte Saturday afternoon.
After showing the little Princess to the world, the Duke and Duchess of Cambridge left the hospital for their home at Kensington Palace. It is assumed that they will spend the first few days at the Palace before making their way to their country estate. ~Erin Stewart