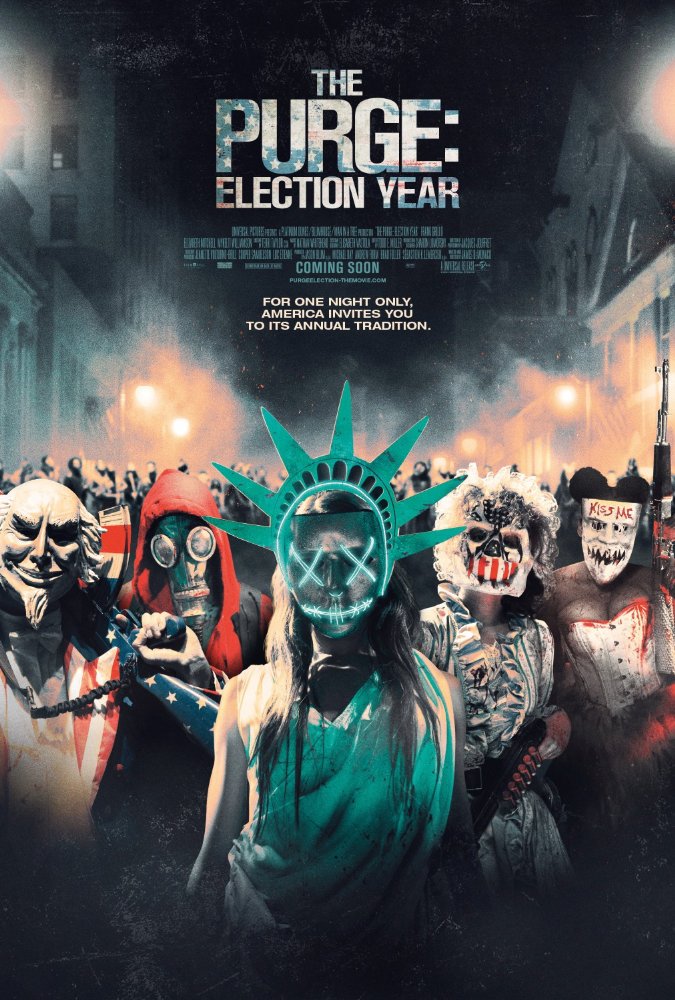 Following the bloody tracks of its predecessors, James DeMonaco's The Purge: Election Year engages the audience with its unique concept and unsettling imagery. The third film in the franchise (after 2013's The Purge and 2014's The Purge: Anarchy, both products of DeMonaco as well) focuses on Senator Charlie Roan (Elizabeth Mitchell) and her race to the White House. She's in stark opposition to Purge Night and vows to abolish it if she's elected President. It's because of this that the NFFA (New Founding Fathers of America) want her eliminated.
As Purge Night descends, the NFFA decides to kidnap and murder her. But she's got back-up, including her team's head of security Leo Barnes (Frank Grillo, reprising his role from the second film) and a grizzled convenience store owner named Joe Dixon (Mykelti Williamson). What ensues as the parties clash is a gritty and gripping experience for thrill seekers.
Two of our writers — Shelby Morton and Matthew Pariselli — attended an advance screening of the film and chatted about their thoughts…
MP: So before we plow through all that there is to discuss about the film, let's chat about that tagline – "Keep America great." I absolutely love the way the film has been marketed, what do you think?
SM: I wholeheartedly agree. It's no accident that this film came out now. And when you really think about it, it's not completely out of the realm of possibility that a certain presidential candidate (who will remain unnamed because I'm afraid for my life) would be totally game for a Purge.
MP: Absolutely. It's a timely movie with the U.S. preparing for its presidential election, and the filmmakers are certainly making a statement through the project. I agree that it's also not an entirely unrealistic concept — I don't think society's necessarily above something as savage as a Purge.
What did you make of the acting? Were you convinced?
SM: Side note: straight As for casting diversity! Anyway, I found there was a smidgen of over-acting, particularly from the secondary characters. The leads were much stronger. Frank Grillo, for example. Can you say smoldering? While Leo is no doubt supposed to be the archetypal "savior" of the film, the real hero for me ended up being Senator Charlie Roan. I've been a fan of Elizabeth Mitchell's ever since Gia, and I think she did a perfect job as the leftist Democrat-like nominee with balls of steel. She played all the surety and passion of someone who knows they're fighting on the right side, all while still understanding that violence only breeds more violence. She was an absolute stand out for me. How about you? Who was your hero?
MP: I too enjoyed Frank Grillo, as well as the convenience store associate Marcos (Joseph Julian Soria). And although I thought Elizabeth played the part of Charlie well enough, I wasn't blown away. Come to think of it, I wasn't particularly affected by any performance. But I will say Joe (Mykelti Williamson) had me laughing. He was the comic relief in the film and he certainly served his purpose. The audience responded to him too.
To showcase the barbarity of purging, a few gruesome shots (and some fairly disturbing ones as well) were employed. What did you make of the imagery?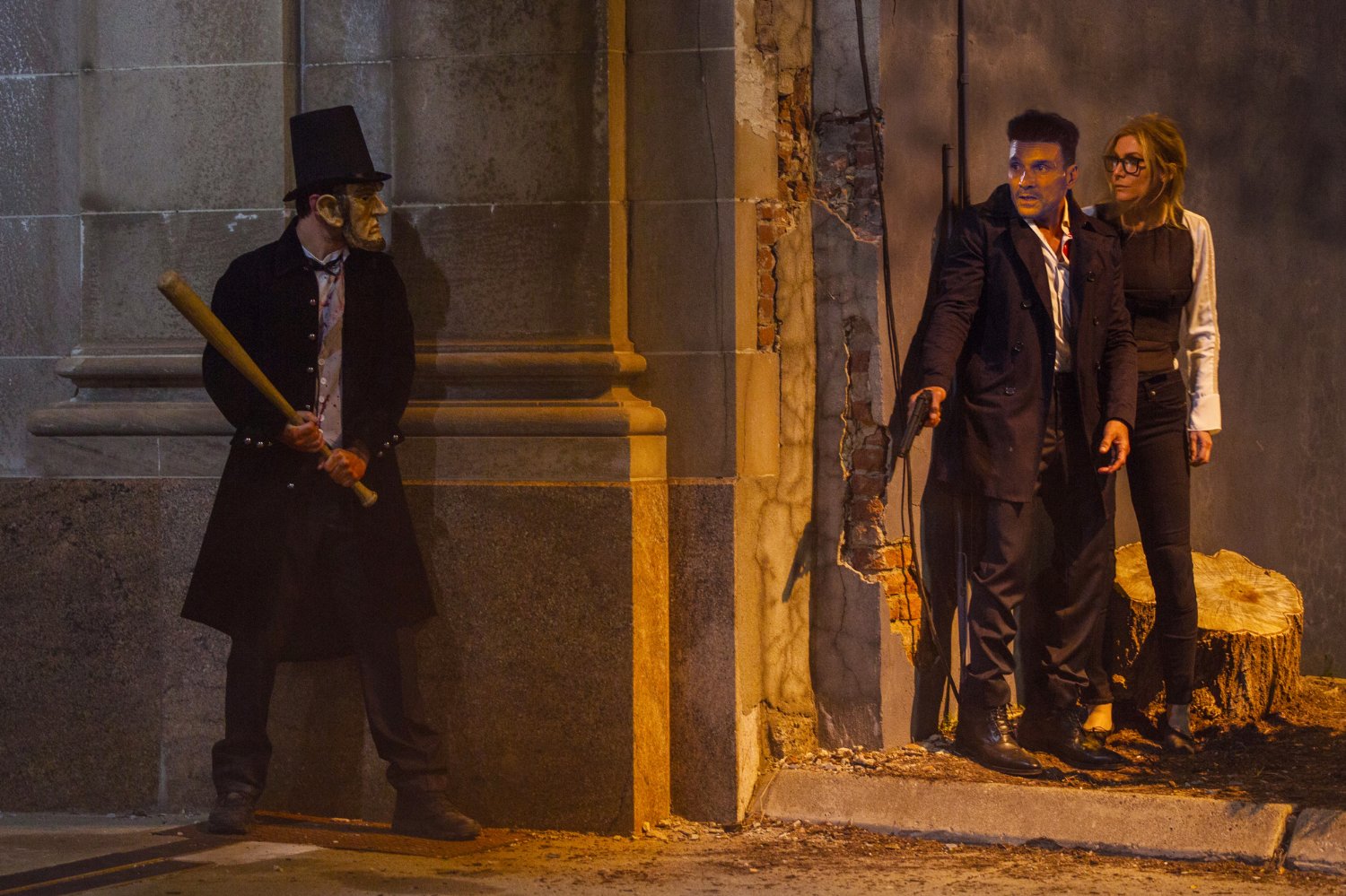 SM: Oh, Joe. The likeable galumph. It felt like the writers probably could've been a little more creative with his one-liners — some of the race jokes felt like shooting fish in a barrel.
And because I watch TV shows like Game of Thrones and Banshee, I felt pretty desensitized to most of the gorier imagery. However, there was one shot in particular — involving the Lincoln memorial — that stuck with me long after the movie ended. Overall, the cinematography was beautiful — dark and menacing, with jarring pops of color. I certainly felt that sense of madness and chaos.
As civilized as I think I am, I also found myself questioning throughout — Would I purge? Would I let my baser instincts take hold? Would you?
MP: I think that's probably what the filmmakers were targeting. The idea of purging seems outrageous, but I bet more people would partake than we'd like to think. If you left the theater considering whether you'd be overcome by the animalistic impulses that drive people to purge — which I admit, I was wondering as well — I think we're the kind of audience members the film is geared towards.
I'm also a viewer the filmmakers are catering to in another way. I really enjoyed the use of music. Miley Cyrus' "Party in the U.S.A." has never been applied to a shot better than it is in The Purge: Election Year, and David Bowie's "I'm Afraid of Americans" was a brilliant choice. The relevance is very real. Was there another aspect of the film that stood out for you?
SM: You're right, the music choices were spot on. I liked the quick transition from the ominous action-heavy score to backyard anthems like "Party in the U.S.A."  And that's the beauty of this film, it's a mad paradox. With the juxtaposition of surrealism and inevitability, the film really captured just how close our current society is to this demented system of purging. Ours may be decidedly less violent, but it's still a corrupt one where the poor are cast aside and the rich continue to get richer. I always love me some good old-fashioned satire, and The Purge: Election Year delivered that in spades…I give it a bloody good A-.
MP: Agreed. We may not be spilling out into the darkness and slitting each other's throats yet, but we're closer to falling off that edge than we'd like to believe. For its atmospheric quality and apt timing, I slash it with a B+.
After you've purified yourself with The Purge: Election Year, please share your thoughts with us by rating/reviewing the film here.