Leonardo DiCaprio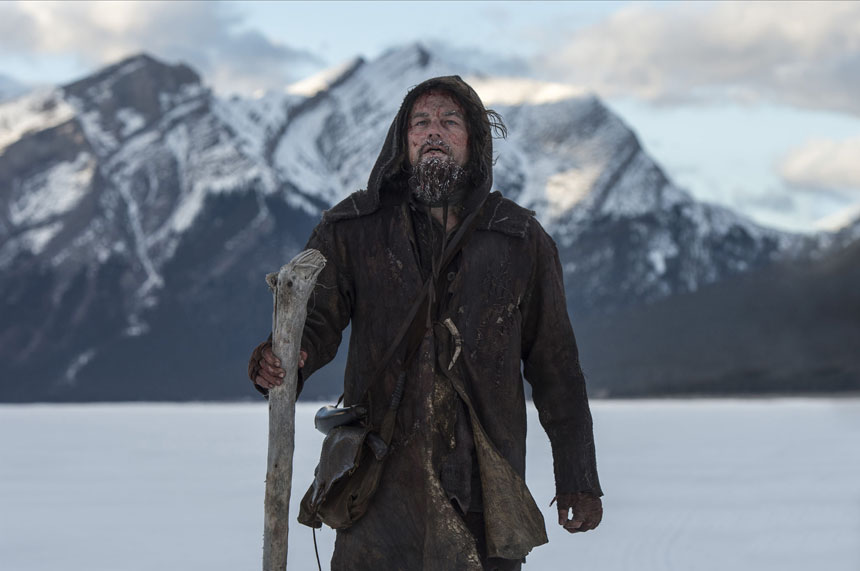 finally won his first Academy Award for his brilliantly executed role in The Revenant. This might be the film in which he has the least dialogue, but he packs an emotional punch in every scene that makes this film worth a watch.
In the 1820s, experienced Wyoming mountain man Hugh Glass (DiCaprio) guides survivors after an ambush by the Indians. While they are traveling on foot, Hugh is attacked by a grizzly bear. This scene gets a good amount of screen time, making the brutal attack almost unbearable.
Hugh is badly injured and although Captain Andrew Henry (Domhnall Gleeson) and his men do their best to nurse his wounds and carry him along the trail, they soon give up. John Fitzgerald (Tom Hardy) advises Andrew to shoot Hugh, but Andrew can't bring himself to pull the trigger. Instead, Andrew offers to pay men to watch over Hugh until his last breath.
Jim Bridger (Will Poulter) and John agree to stay behind, along with Hugh's son, Hawk. Soon after, when Jim is away by the water, John attempts to smother Hugh to death. Hawk sees this and tries to save his father, but is stabbed to death by John. Unable to move, Hugh can still see what's going on and witnesses his son dying before him. This emotional scene was perfectly directed by Alejandro González Iñárritu and successfully draws sympathy from the audience.
John disposes of Hugh's body in a shallow pit and tells Jim he heard Indians around the corner and that they are about to attack. Jim hesitates, then runs for his life with John, leaving behind an injured and grieving Hugh who is bent on revenge. Thus begins a journey of retribution.
This gut-wrenching, visceral true story has all the ingredients of a box office hit. Albeit, you need a strong stomach to witness some of the hard-hitting and gory scenes. However, if you are a hardcore Leonardo fan who has been been rooting for his Oscar win since Titanic, you will enjoy this film. His expressions captured the grief of a father, the anger at his team's betrayal, the sheer will to survive and the need to get vengeance for his son. I'd say this was certainly one of his most powerful performances.
Leonardo also went to extremes for this film – he actually ate a raw bison liver and shot many scenes in the frigid cold climate of Alberta, even to the extent that at one point, his eyes were frozen shut.
Alejandro González Iñárritu carefully stitches together the brutal account of Hugh's journey and procured fantastic performances, not to mention the cinematic scenes in Alberta that make this film a masterpiece. For his part, Tom Hardy was perfect as the villain, making it easy to hate his character. Will Poulter was also admirable as Jim Bridger, drawing sympathy for a kid with a conscience. Click here to watch our interview with him.
If you don't mind stomaching the graphic scenes (or maybe shut your eyes), you will likely enjoy this action-packed film. Special features on the Blu-ray include A World Unseen documentary.

~Marriska Fernandes
We are giving away one copy of The Revenant on Blu-ray, available to Canadian residents only. To have a chance at winning, please leave a comment below with your full name telling us why you'd like to win and make sure to enter an email where we can contact you in the box provided – this will not be visible to the public.