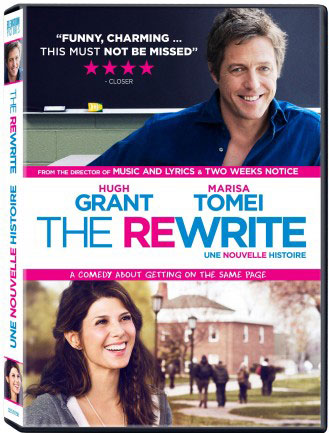 The Rewrite is a hidden gem of a rom-com that will keep you entertained with its edgy script, bag full of witty punch lines and talented actors.
Hugh Grant proves he's still a charmer with a knack for dry humor as he takes over the character of Keith Michaels, an award-winning Hollywood screenwriter who has hit rock bottom and is now desperate for a gig. He reluctantly takes up a position as a screenwriting professor at Binghamton University. With no knowledge, or intention, of teaching, he cherry picks his students, who resemble a beauty pageant.
On campus he meets Holly Carpenter (Marisa Tomei), a working mother taking classes at the university, and she manages to talk her way into Keith's class. Keith's smug banter gets him in hot water when he attends a campus gathering for teachers and claims that he's fed up with female empowerment topics. This doesn't bode well with Professor Weldon (Allison Janney), head of the ethics committee and a huge Jane Austen fan. Keith finds he's taken the first step that may threaten his job. Keith also gets into a relationship with one of his underage students and he's not sure how to deal with it when he discovers that's also a ticket to getting fired.
Holly sees right through his antics and helps him realize that maybe it's time he worked on his skills as a professor. As Keith opens up to his students and takes the time to read their scripts, he realizes their potential and, to some extent, his own. Hugh Grant scores brownie points for acting the role of a washed-up, yet still smug, Hollywood writer, but it was Marisa Tomei who sparkled as Holly, a single mom with two daughters, working two jobs and attending school, who still dreams of doing something special with her life.
J.K. Simmons, fresh off his win for Whiplash, was surprisingly endearing as a professor who gets emotional whenever he talks about his wife and four daughters, because he's so happy with his home life. The film certainly trumped in my books and if you like Hugh Grant's movies, you will probably also love this one.
Special features include The Making of The Rewrite and Deleted Scenes. Other DVDs releasing today include: Finding Vivian Maier, Home Sweet Hell, The Masters of Suspense, 108 Stitches,The Rewrite, Son of a Gun, The Voices, The Overnighters, The Yellow Eyes of Crocodiles and Winter Sleep.  ~Marriska Fernandes
Click on each title below to watch the trailer:
A Most Violent Year
Finding Vivian Maier
Home Sweet Hell
The Rewrite
Son of a Gun
The Voices
Winter Sleep