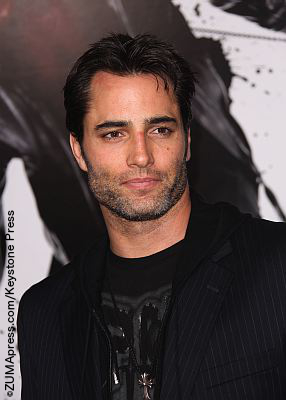 The latest installment in the Scorpion King franchise – The Scorpion King 4: Quest for Power – released today on Blu-ray/DVD. The film is full of adventure, romance and betrayal and returns to the formula of the first Scorpion King movie by incorporating comedic elements. The film follows Continuum's Victor Webster as the warrior Mathayus who — after being betrayed by a trusted ally — will stop at nothing in order to prevent an ancient power from falling into the wrong hands.
To get ready for the release I had the pleasure of chatting with the film's star, Victor Webster, about what viewers can expect from this installment; what the cast got up to on their days off and what he hopes to check off his bucket list.
Congrats on the film, it was very entertaining to watch. What can viewers expect this time around compared to the last installment Battle for Redemption that you were in?
The level of fun is a lot higher. It's got a lot more comedy. The action sequences are much more buried than the last movie. It's just a family friendly action movie where everybody can sit and have a good time watching it.
How would you describe your character Mathayus to viewers who are new to the franchise?
Mathayus was an assassin for hire. Now, he's kind of just on a quest and on hire to the highest bidder at this point. He runs around and fights people (laughing) and goes on these quests and journeys. He's a very strong kind of stoic type but the good thing I like about this Scorpion King, the new one, is that it's got a much lighter sense of humor.
This role was very physically demanding. How did you prepare for it?
It's just one of those things where you've got to jump in with two feet. Mathayus is a warrior-like barbarian, so he's got to be big. There's a lot of months and months of training and putting on weight and trying to get as big as possible and then we have a month of fight choreography and camel riding lessons and horse riding lessons and swinging swords and battle axes. That's always a good time. I enjoy that part of it. And the rest of it is, you just have to go out there and do it. You're going to get hurt, banged up, bruised and you just have to pick yourself up, dust yourself off and go at it again.
There are so many intricate fight scenes – how was it filming them and learning all the choreography? 
It's one of those things, you've got to do it over and over and over again in rehearsal and training. Until when you step on set you don't even really need to think about it. It just becomes second nature. And when you're doing it while you're shooting, a lot of times you break it up into pieces. That's good for all the actors involved, you don't get too tired and burned out. It also makes it easier to remember the choreography that way and it makes it much safer as well.
There are many comedic moments in the film both from physical comedy and through the dialogue. Was it hard to keep a straight face at times while filming?
(Laughing) Absolutely. That was probably harder than the physical parts of the movie. Barry Bostwick was hilarious and every time I got an opportunity to do a scene with him each time he did something that was different. He's got such a great sense of humor and is such a great person. Ellen [Hollman] and I would be off camera cracking up the whole time while he'd be doing all his stuff and then when it came around to us we'd have to ask him to tone it down so we didn't crack while we were shooting.
The cast has such great chemistry together.
Again, I think they did such a great job with casting the characters for these movies. Now it just so happens that the actors playing those characters are also great people. It was a great chemistry because we hung out all the time when we weren't shooting. We became really close very good friends and we were laughing on and off set all the time.
I especially loved the opening scene with you and Will Kemp trying to pass through the swinging weapons. What was one of your favorite scenes to film?
That was actually very, very difficult to choreograph. We spent a lot of time working on that. Grant Powell was our fight coordinator but that was also one of his duties to figure out a way to get us from one end to the other end, in a very humorous way and I think he succeeded. Also, Mike Elliott has such a great comedic background as well, so a lot of stuff he would interject into the scenes. That was a lot of fun. There's a cool little moment when the first time I meet Ellen's character is when we're talking through a hole in the wall. That's fun. There are so many great moments. It's hard to pick one.
Without giving too much away, were you surprised when reading the script? Because there were a few twists that I didn't see coming, especially the second one.
Yeah, that was a nice little secondary "What the heck?" (Laughing). I think that keeps movies interesting. You want to keep people on their toes and it's nice to have something come in that's unexpected.
The landscape plays a large part in the film. What was it like filming in Romania?
Romania is a beautiful country and as you see in the film there are so many exotic locations: castle walls, huge cliffs, rolling hills, forests. It's a perfect place to shoot a period film and I think that's why so many are shot there. Romania was a very welcoming and warm place and it's a very interesting place because you'll be somewhere in the city where there's every modern convenience you can possibly imagine and then you travel 20 minutes out of the city and there are horse-drawn carriages and dogs roaming the streets. It's just such a dichotomy, the difference in that country. It was really interesting to be there.
What would the cast get up to in your spare time?
We only had one day off a week and that was Sunday. It was "Sunday Funday," which would be laser tag, go carts, eating. That would be our cheat day as well because everyone was in training, everybody was trying to get their six packs going. So on Sundays we would drink beer and eat pizza and watch movies or UFC fights. It was a blast. Sundays were greatly looked forward to by everybody.
I saw on your Twitter that you were just in Australia, swimming with and feeding sharks.
That was one of the things on my bucket list. I got an opportunity to do that and it was an exhilarating experience. You've got these huge beautiful creatures that are deadly predators and you're within six inches of them. I was able to reach out and touch one of them if I wanted to, they came so close to the cage, and you really get to see them in their environment. It was really scary but also really exciting at the same time.
What's another thing on your bucket list?
I have so many. I want to do that squirrel suit, the winged flying suit.
That looks intense.
Yeah, definitely want to do that. I want to do solo hang gliding. I want to go swimming with the sharks without a cage.
Is there anything you would draw the line at?
Not really. (Laughing)
Are you more attracted to a script if it's action packed and physically demanding? Or is that just a bonus?
That's just a bonus. Ultimately it comes down to the characters and the writing. That's got to be very very strong in order for people to be invested in the movie. If it's just a bunch of action then nobody cares and why bother doing it? I'd rather do a movie with great characters that has a little bit of action that supports the story. That's always much more interesting to me.
What's up next for you?
Going back for season four of Continuum. That starts shooting early next year. I've got a couple things. I've got a sci-fi movie coming out. I've got an episode of Girlfriends' Guide to Divorce, a new show with Lisa Edelstein and Janeane Garofalo. It's a comedy so that's interesting. And that's it. More travel and adventure between now and when we go back for Continuum.
Thanks so much for talking with me and I'm excited for viewers to see the film when it comes out.
Be sure to catch The Scorpion King 4: Quest for Power on Blu-ray/DVD with the whole family! ~Janine Wyslobicky