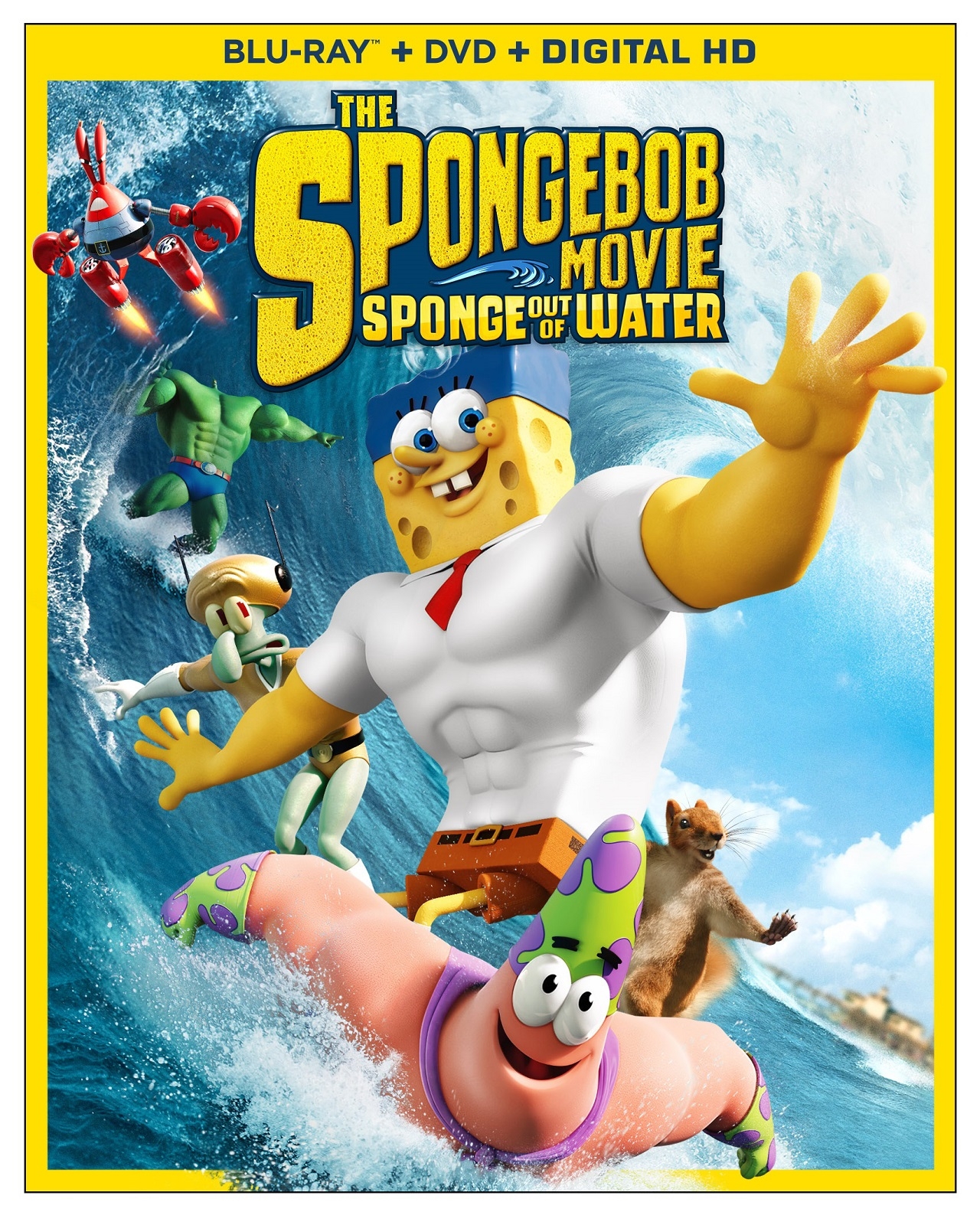 What do you get when you mix a yellow sponge with a starfish, squirrel, crab, octopus, copepod, and a pirate? The answer is a laugh-out-loud, imagination-filled comedy that's fun for the whole family.
The SpongeBob Movie: Sponge Out of Water is an energetic ride into the world of the sea's most loveable cleaning product, SpongeBob SquarePants. I'm not sure if children know the sponge is an actual sea creature or if they even care. What I do know is this is a film sure to keep them entertained.
Fans of SpongeBob (Tom Kenny) know him as an enthusiastic, cheerful character with a knack for getting himself into trouble. In what is now his second feature-length film, the happy-go-lucky sponge is back for another round of hijinks, and he brings the whole gang with him.
First there's Patrick Star, the dim-witted starfish who happens to be SpongeBob's best friend. Then we have Squidward Tentacles, the cantankerous octopus who is both a neighbor and co-worker. Sandy Cheeks is a squirrel from Texas as well as an expert in science and karate. Last but not least, Mr. Krabs, SpongeBob's penny-pinching boss who is obsessed with money. Now that I think of it I'm forgetting someone. No cast can be complete without the bad guy. Plankton, the small green copepod determined to put Mr. Krabs out of business.
The movie introduces another character looking to slide into the super-villain role. His name is Burger Beard the pirate (Antonio Banderas). With the main players out of the way allow me to set the stage. The plot here is simple and easy to follow, which helps when dealing with attention spans shorter than a commercial break.
SpongeBob is a fry cook who loves his job at Mr. Krabs' restaurant, the Krusty Krab. Besides frying up his famous Krabby Patties for hungry patrons, his other main duty is keeping the Krabby Patty recipe safe from Mr. Krabs' nemesis, Plankton. The Chum Bucket is Plankton's restaurant, which is far less successful than the Krusty Krab. His intent is to steal the secret recipe in an attempt to expand his business.
Like clockwork, Plankton launches a military strike on the Krusty Krab, hoping to achieve his goal. When it appears he is again defeated, Mr. Krabs takes the opportunity to gloat. Busy celebrating his victory he's unaware that Plankton has fooled him with a decoy. Plankton now has the formula and is ready to escape when SpongeBob stops him. The two have a tug of war over the recipe when it magically disappears.
SpongeBob can't make Krabby Patties without the formula and ravenous customers soon become irate. It's not long before SpongeBob's home of Bikini Bottom turns into a Mad Max-ish, post-apocalyptic wasteland. SpongeBob suggests he and Plankton work together to get the formula back. He reluctantly agrees and soon the whole gang is on board.
They eventually realize Burger Beard is the one responsible for the disappearance of the formula and must figure out a way to track him down. There's only one problem. Getting Burger Beard means they must leave the ocean and venture onto land. This is the point where the two worlds collide, resulting in an epic battle.
This movie is as fun as it is hilarious. The jokes are non-stop and each character brings something to the table. Antonio Banderas does well in the role of Burger Beard, as he is completely committed. His talent for comedy is evident throughout his interactions with his seagull minions.
The writing is smart and appeals to audiences of all ages. What was especially impressive was the animation; in particular the live-action scenes. The transition from SpongeBob's world to ours was seamless. The CGI animation looked great and appeared flawless onscreen.
The SpongeBob Movie: Sponge Out of Water has a ton of exclusive content. With over an hour of material, the Blu-ray offers a behind-the-scenes look at cast and crew, wardrobe and makeup, as well as a look at how some of the biggest action scenes were created. One of my favorite features is the karaoke-style music videos. The songs are fun and actually quite catchy. One in particular is "Squeeze Me" performed by Pharrell Williams' group N.E.R.D.
This is definitely a Blu-ray I would recommend. The fun factor is present throughout the entire package. The movie combines an interesting plot with exceptional visuals and side-splitting humor. When you add all the bonus content you truly complete the nautical adventure. Grab yourself a copy, you won't be disappointed. ~Andree Rhooms
Also releasing on DVD today are: Focus, McFarland, Jupiter Ascending, Camp X-Ray, Elephant Song, Killing Jesus and Monsters: Dark Continent.
Watch the trailers:
Focus
McFarland
The SpongeBob Movie: Sponge out of Water
Camp X-Ray
Elephant Song
Monsters: Dark Continent
Jupiter Ascending