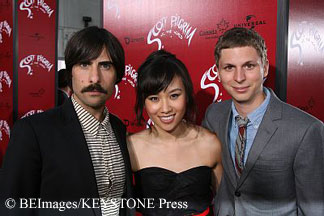 The Toronto premiere of Scott Pilgrim vs. the World was held at the Winter Garden Theatre last night and all the stars were in attendance, including Canada's own Michael Cera; Anna Kendrick of Twilight fame; Brandon Routh who played Superman in Superman Returns; Kieran Culkin, Jason Schwartzman, Mae Whitman, Mary Elizabeth Winstead, Ellen Wong and Alison Pill. Also at the premiere were writer/director/producer Edgar Wright;
producers Marc Platt and Nira Park; writer Michael Bacall; and graphic novel creator Bryan Lee O'Malley.
Like many American films, Scott Pilgrim vs. the World was filmed in Toronto, but the difference is that it's actually set in Toronto. The CN Tower, Casa Loma, Honest Ed's, the Science Centre, and Harbourfront are key locations in the film — even footage of Caribana is included. Tourism officials are hoping that moviegoers will be drawn to Toronto in the same way that Twilight fans are drawn to Forks, Washington and Vancouver, B.C. Cera, who was born and raised in the GTA, says, "Toronto has its own unique feeling and you have to come and experience it at least once. Toronto is like the New York of Canada. Walking around the city, it just makes me really happy." Scott Pilgrim vs. the World opens in theaters on Friday, August 13th.