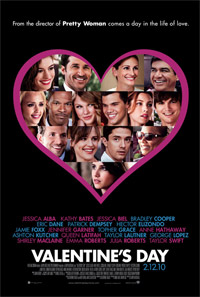 Valentine's Day–some people love it, some people hate it, but whatever the sentiment you can certainly appreciate some great chocolate!
The new romantic comedy Valentine's Day, directed by veteran filmmaker Garry Marshall, boasts a star-studded cast that includes Jessica Alba, Kathy Bates, Jessica Biel, Bradley Cooper, Eric Dane, Patrick Dempsey, Hector Elizondo, Jamie Foxx, Jennifer Garner, Topher Grace, Anne Hathaway, Ashton Kutcher, Queen Latifah, Taylor Lautner, George Lopez, Shirley MacLaine, Emma Roberts, Julia Roberts and Taylor Swift. The film follows the intertwining storylines of a group of Los Angelinos as they find their way through romance over the course of one Valentine's Day.
Tribute's Bonnie Laufer caught up with several of the film's stars, getting a Canadian exclusive interview with Julia Roberts and Bradley Cooper and learned what exactly Valentine's Day means to them.