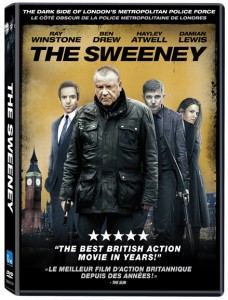 If high-speed car chases get you pumped and restless at the edge of your seat, this is definitely a movie for you. The Sweeney is an action-filled police drama based on the '70s UK television show of the same name. The film follows Detective Inspector Jack Regan (Ray Winstone) and the Flying Squad, a branch of the Metropolitan Police, who follow their own rules to take down armed robberies.
The intensity begins within the first 10 minutes. The surprises along the way aren't life changing, but they're unexpected and completely mind-blowing — the excitement hits you all at once. Regan is the head of the team and very close to the people he works with, especially Detective Constable George Carter (Ben Drew) and Detective Constable Nancy Lewis (Hayley Atwell). When an old enemy returns with a new team of bad guys, the squad stops at nothing to take them down, but when their intuitions are proven wrong, they hit a small bump in the road. Without giving away any more details or spoilers, it might be best just to reveal an appropriate line from the movie: "What you don't know won't kill you."
Regan's edgy and rough-sounding voice forms a really strong base for a great leading character, while the plot and epic car chases make the movie a definite draw for action fans. Special features on the DVD are just as action-packed as the movie, with "Behind the Scenes of The Sweeney" and "On the Shooting Range." For super car-lovers, there is an interesting piece called "Top Gear and the Caravan Park." The famous British show Top Gear, including host Jeremy Clark, played a huge role in the scenes involving the car pursuits.
From beginning to end, I can't stress enough how much action is involved in this movie—I thoroughly enjoyed it. ~Renita Naraine
Other DVDs releasing today include: John Dies at the End, The End of Time and Hemingway & Gellhorn.