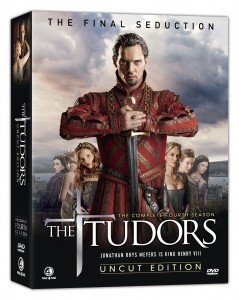 Jonathan Rhys Meyers unleashes the madness.
They say it's good to be king. For Jonathan Rhys Meyers (Match Point, Mission Impossible: III), it was stellar. Playing Henry VIII, in the critically acclaimed series, was a role of a lifetime. Although The Tudors, based on the life of England's most famous monarch who married six wives, took some liberties for dramatic sake, it had to be one of the most entertaining and riveting series' out there. How could one peel their eyes away from a show about royal history laden with hot steamy sex scenes and bloody murder? All four seasons of The Tudors deliver riveting performances enhanced by beautiful costumes and glorious sets that made medieval times seem fashionable again.
The only downfall to the series (produced by Peace Arch Entertainment for Showtime) was that it was too short. In the first season, we were introduced to his majesty Henry VIII and quickly learned who is allies were; his best childhood friend Charles Brandon, played by Henry Cavill, as well as his most cunning manipulators including his second wife, the most famous Anne Boleyn played beautifully by Natalie Dormer. Of course, one of the thing you could always bank on at the end of every episode was that a head was sure to roll.
In Season Four (the final season) of The Tudors, we see Henry take on his worst challenge, his decent into madness. Although he has been in power for many years, Henry's life and times remain as turbulent, controversial and dramatic as they were when he was a young King. The Tudors creator Michael Hirst sums up the season: "We're coming to the end of Henry's life but things don't slacken up, far from going out quietly Henry VIII goes out with an extraordinary bang as a middle-aged man. He was older, but only in his late 40s. He was ill, he had an extremely serious ulcerated leg, and more paranoid but then he marries an extremely young woman, who was totally not the right background to be a Queen. At the same time he goes to war. And then he marries again, for the final time, to a woman who is very capable but who everyone thinks is a heretic and some want to execute."
With an ailing body and increasing sense of paranoia, the king is more obsessed than ever with his quest to secure his dynasty with another male heir. In an effort to secure his dynasty, he marries the very silly and naïve Katherine Howard (Tamzin Merchant), who has other things on her mind than giving Henry and heir including her dangerous affair with Thomas Culpepper (Torrance Coombs). After an investigation into her past, her fate is sealed. No matter, for Henry the VIII there is always another wife to take. When he sets his sights on Catherine Parr (Joely Richardson), twice married with no children, her fate is sealed as the sixth and final Queen.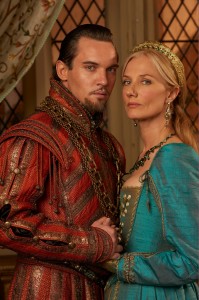 In the aftermath of the bloody Pilgrimage of Grace, Parr is put on trial for her Protestant beliefs. As Catholics compete with Protestants the Bishop, Gardiner (Simon Ward), is determined, with Henry's eldest daughter, Mary, to embark on a mission to deplete the kingdom of heretics . When they shockingly learn that Parr is a Protestant—using her position to encourage people to read the Scriptures rather than accepting what they are told—they sell her out to the king.
Henry demonstrates little enthusiasm for the ambitious Bishop's accusation that Catherine Parr is a heretic and when Catherine confronts the king, she barely escapes the chopping block. Henry finds some compassion for his wife who he knows is a caring stepmother to the royal children—Mary, Lady Elizabeth and Prince Edward and takes a great interest in their lessons while raising them as Protestants.
With one last victory with the recent siege of Boulogne under his belt, Henry's aging body and the pain of his ulcerous leg begins to takes its toll. In what is a great last episode, his beloved friend Charles Brandon, the Duke of Suffolk,  appears to him ill and dying. He flat out forbids Brandon to die, who inevitably collapses in front of the king. Even as a powerful king, Henry VIII finds that he cannot control death.
—By Toni-Marie Ippolito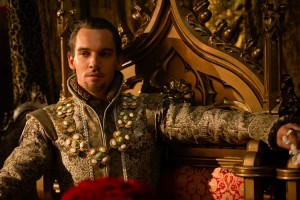 The complete fourth season of the critically acclaimed THE TUDORS is released on November 9, 2010. Concurrently with the release of the final season, Phase 4 Films will release THE ROYAL COLLECTION, the Complete Uncut series of THE TUDORS consisting of a 13-Disc set, including unedited episodes from all four seasons, plus hours of bonus material.
Season Four of the racy royal drama stars Golden Globe® Award Winner Jonathan Rhys Myers (Match Point, Mission Impossible: III) as King Henry VIII; Henry Cavill (The Count of Monte Cristo, Stardust) as Duke of Suffolk, the King's close friend and confidant; Sarah Bolger (In America) as Princess Mary; Max Brown (True True Lie, Fallen Angels) as Edward Seymour; Tamzin Merchant (Pride and Prejudice) as Katherine Howard, Henry's fifth wife; and Joely Richardson (Nip/Tuck, The Patriot) as Queen Catherine (Parr), Henry's sixth wife in his final and longest marriage. THE TUDORS is created and written by Michael Hirst (Elizabeth, Elizabeth: The Golden Age).