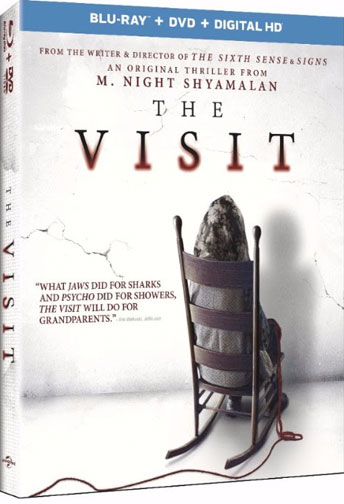 When Manoj Nelliyattu Shyamalan was eight-years old, he was given a Super-8 camera, and his passion for filmmaking was born. While studying at the Tisch School of Arts at New York University he changed his middle name to Night, which is apropos, because while he idolized director Steven Spielberg, his films are very different. Shyamalan creates thrillers: supernatural, fantasy, suspense or sci-fi.
His newest flick to hit DVD is The Visit. The premise is this: While their divorced mom (Kathryn Hahn) goes on a much needed holiday, children Becca and Tyler are sent for the week to their grandparents. The catch is: they've never met them. Their mother has been estranged from them since she was 19 and moved from home.
This doesn't faze the kids. They are more than happy to go, because they have an agenda: learn about their mother's childhood, find out what happened on the day she left home, and of course get to know their long-lost grandparents. But the kids do remark: "We don't know their temperament or their proclivities." Yeah, right. If that isn't an ominous observation, what would be?
After a warm reunion, they're off to a good start. The stone house is charming, homey and welcoming, albeit isolated. There are snow capped trees on the property, piles of chopped firewood and lots of fresh home baking. But don't be lulled into a sense of security in these idyllic surroundings. Things are about to go off the rails. Big time.
It's an intriguing concept, but this reviewer did find the film both slow moving and somewhat confusing. Did we just see Nana playing hide and seek or was it our imagination? Becca and Tyler wonder the same thing. There are questions, and some confusion as well. The audience needs to be patient.
Shyamalan has employed the found footage device, commonly used in the horror genre, for this film. Becca and Tyler are documenting their trip. Therefore, the audience is watching the action through the camera's eye of one of the characters, accompanied by their constant running commentary. Of course, as the film moves forward, the original documentary becomes more like an investigation as Becca and Tyler try to solve the mystery of what is going on.
The kids can't get cell-phone reception. The camera on their laptop that they were using to Skype their mom gets accidentally damaged by Nana. But was it an accident?
Pop Pop, as they have christened their grandfather, tells them to stay out of the basement. He claims there is mould down there and he doesn't want them to get sick. Fair enough. But when Pop Pop comes out of the mysterious shed on the property, why does he look like he is in another world and why does he then ignore his grandchildren?
When Nana asks her granddaughter to clean the oven and suggests she crawl right in (who has an oven that deep?), you become as leery as Becca does and are reminded, of course, of Hansel and Gretel.
Every day is documented as a chapter heading and the fact that it is in blood red seems significant.
Finally, Nana and Pop Pop go to bed at 9:30 p.m. every night like clockwork and that's when the really bizarre kicks in.
Lucky for us, it's not reminiscent of The Blair Witch Project or The Gallows, where the audience has to suffer through shaky camera work. All was steady here, with the exception of the mounting tension, which had me shaking. Well, not exactly shaking, but certainly sitting on the edge of my seat.
Even if you're not a fan of this genre, you root for these kids as they get increasingly frightened. They are smart, resourceful, and funny. Tyler is a great rapper and decides that instead of swearing, from now on, he will call out names of female celebrities. It's funny and it works.
Shyamalan deliberately chose to cast lesser known actors. It was a good call. Australian Olivia DeJonge plays 15-year old Becca and fellow Aussie actor Ed Oxenbould plays her brother, 13-year-old Tyler. They were great. Honest, open, talented and fun to watch. Nana is played spot on by Deanna Dunagan, looking just as a grandmother should look, in her apron and grey hair, but menacing too. Peter McRobbie played Pop Pop. He was equally kind, charming and menacing too.
The Combo pack comes with bonus features: Alternate Ending, Deleted Scenes, The Making of The Visit, and Becca's Photos.  ~Sharon Salsberg