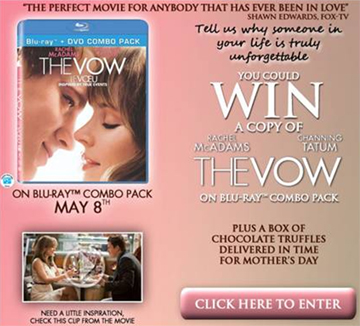 Tribute.ca users were asked to enter our contest for The Vow, by telling us about someone unforgettable in their lives. The prize is a Blu-ray/DVD combo pack and a box of chocolates in time for Mother's Day (this Sunday, May 13). We received some amazing replies, from the amusing to the truly touching, and we'd like to share a few with you.
Many men wrote us about their love for their wives and girlfriends. Here's one of the most touching: "My wife literally pulled me out of the gutter. She has saved my life continuously since the day I met her. She goes out of her way to make me happy even if she puts her needs at a distant second."
Here's an amusing entry: "I am unforgettable because I'm a friend to everyone, and always put others before myself."
Alexis has great parents. She told us about her dad: "My dad was awesome. He was kind, and thoughtful. He would pretend he was asleep and allow us to place make up on him, and fix his hair. When he supposedly did wake up he acted like he had no idea. LOL He really enjoys us children, and always felt blessed to have us in his life. Never made us feel like a burden. Always at the right place at the right time, saying the right thing."
She had a funny story to tell about her mom:  "My mother is such a quiet spoken woman. One day, my boyfriend Keith (now an ex-boyfriend) was putting me down while my family and friends were over. My mom, to my surprise and admiration, said on her own in a strong voice, 'Well, she was incredible before she met you!' Love you MOM."
Anna also had a wonderful mother: "As a child she encouraged me to be the most I could be, rise to challenges and follow my dreams. As a young woman, she supported me in all the choices I made, even if they weren't the wisest. She loved me unconditionally. As a maturing woman, our roles reversed. She was the one who needed help and support and I did my best to offer it in return. She is truly unforgettable to me!"
Ruth's mom is her hero: "My Mom is deaf and has Fibromyalgia, and is slowing losing her vision. Along with my deaf dad, she raised 4 children and was a foster mom to numerous deaf and disabled children. She is truly an unforgettable hero."
Aynsley told us about her inspiring husband: "My husband is truly unforgettable. Not only is he my best friend and confident, he is my cheerleader and biggest support. I battled cancer last year and he was by my side the whole time – telling me that I was beautiful even when I lost all of my hair and much of my self – confidence. I love him so much!"
Several people told us about their unforgettable dogs, including Brenda who wrote: "My dog Charlie is truly unforgettable and amazing. He makes me smile and laugh and honestly is the best addition to our family. I couldn't imagine life without him."
Carol wrote: "My dog as she is everything to me is  there no matter what. Although she has two broken ligaments in her hind legs she still brings so much love to our family," while Chad admitted: "My dog is truly unforgettable!  She constantly does the silliest things to make me laugh."
Thanks to everyone who entered – the winners have been chosen and will be contacted shortly!