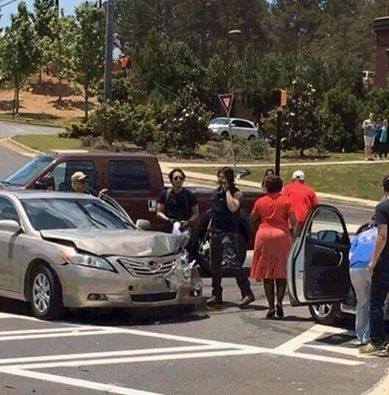 Norman Reedus and Steven Yuen can usually be seen firing arrows out of crossbows and driving stakes into the heads of zombies on The Walking Dead. But those involved in a Georgia car crash were granted a much less violent, albeit equally heroic, glance at the actors on Thursday.
The men, who play Daryl Dixon and Glenn Rhee on the hit AMC show, stopped at a minor traffic collision that occurred in Peachtree City. Reports indicate that Norman and Steven were riding by on motorcycles when they came across the scene.
Wanting to exercise due diligence and help wherever necessary, they pulled over and hung around until paramedics arrived.
The seventh season of the gruesome show began filming in Senoia, a nearby city in Georgia, earlier this month.
Norman, 47, most recently shared the spotlight with Casey Affleck in the crime drama Triple 9.
Aside from The Walking Dead, Seoul-born Steven can be seen on the big screen next year in Okja alongside Tilda Swinton and Jake Gyllenhaal.
~Matthew Pariselli