Harry Potter: The Exhibition opens tomorrow in Toronto at the Ontario Science Centre. The 1,300-square-metre Exhibition offers a close up view of authentic artifacts and over 200 original costumes housed in replicas of the sets from the films, including the Great Hall, Hagrid's Hut and the Gryffindor common room.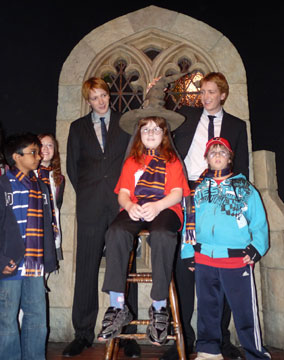 James and Oliver Phelps, who play Ron's older brothers Fred and George Weasley, were on hand to show the media around the exhibition and answer questions about the films. James welcomed the crowd, saying, "We're really happy to be here. It's amazing to see some of the props here that we'd actually forgotten were in the films. The detail that goes into it, it's really exciting to be able to see it. I'm speaking on behalf of both of us when I say I hope everyone enjoys it and has a great time." 
The twins then led everyone through the exhibition, first placing the sorting hat on willing young volunteers. The first two children were sorted into Gryffindor house, but there were Ravenclaw and Hufflepuff recruits as well (no one got into Slytherin, at least not while we were there, though a gift shop employee revealed that the next most popular keychains and T-shirt souvenirs after Gryffindor were those from Slytherin).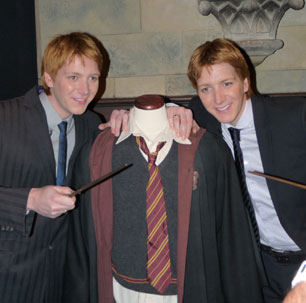 The children were then encouraged to try their hand at throwing a Quaffle through one of three goalposts. The final stop was the Great Hall, where James and Oliver answered questions about the films. They revealed that they have eight to 10 weeks left of filming on the final movie in the franchise, Harry Potter and the Deathly Hallows Part II. Oliver said, "It's starting to sink in now that it's coming to the end. But we've just got to adapt to it, I suppose. It'll take awhile for it all to die down, it won't be until the end of next year, but it's been a great run." James added, "It'll be weird not to play them again but I'm sure they'll stay with us in our hearts. "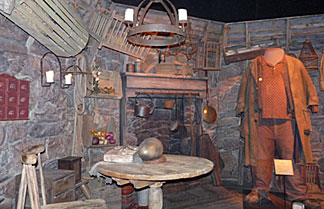 They agreed that Goblet of Fire was their favorite of the series. "There were so many new characters that came into that film. Just everything about that film sticks out in my mind," said James.
When asked, Oliver couldn't think of anything he didn't enjoy about being a part of the movies. Though, because they have dark brown hair, they had to dye their hair red, so he admitted, "The worst bit was getting our roots done every two weeks." James added, "We've been able to go back to [our natural hair color] a couple of times in the 10 years that we've been filming. The ginger's been alright, though."
They also said they love meeting the fans. "The Potter fans are really unique, they're really warm and welcoming to you as a person as well as the character you play but they let you get on with things," James said. Oliver explained further: "We were at the Raptor's game last night and they came to say hello, but then they left us alone, which was really nice."
When asked about J.K. Rowling, the author of the Harry Potter books, Oliver revealed: "We've only met her a couple of times actually, but every time I was scared out of my wits. But she was really nice to us. "
James added, "Not because she's a nasty person, but because it was her idea and we were doing the characters she created, so it was a bit intimidating."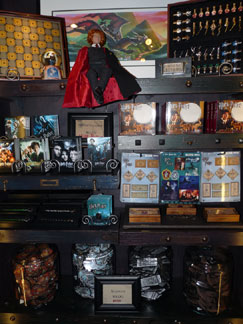 They admitted to being pranksters in real life, though not to extent that Fred and George go to in the movies. One prank they pulled was switching characters, but only for a rehearsal. "It was in a very wide shot of the Great Hall," James explained. "We did it in one rehearsal take, but then we switched back before the cameras started rolling."
The exhibition winds to an end at the Harry Potter Shoppe, which has a huge assortment of Harry Potter merchandise. One little boy was amazed when he tried out a Harry Potter wand and it magically lit up. There were also Quidditch supplies, Chocolate Frogs, Fudge Flies, Azkaban and Muggle T-shirts, Harry's Marauder's Map, Harry, Hermione, Ron and Luna Lovegood dolls and much more. The only thing missing was Butterbeer.
The Exhibition has received rave reviews from fans at its first two stops in Chicago and Boston. It's set to run until August 22 in Toronto, which is its only Canadian stop, before moving on to the next city on its international tour. ~Alexandra Heilbron
All photos by Alana Britten.