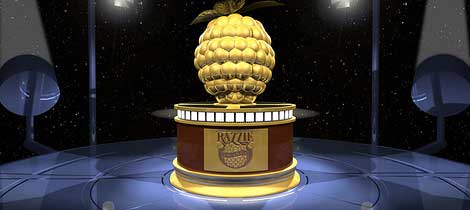 With the Oscars right around the corner, it was only a matter of time before nominations were announced for a very different type of honor.
Shortlists for the 37th Golden Raspberry Award, or The Razzies, were released today, highlighting the worst of the worst in film for 2016. The contenders were voted upon by members of the Golden Raspberry Award Foundation.
So, which films received a dishonorable mention?
Coming in on top (or bottom, depending on how you look at it) with the most Razzie nominations is Batman v Superman: Dawn of Justice. While the film still has audiences divided, it certainly was not well-received  amongst Razzie voters, earning a total of eight nominations, and the potential title of 2016's Worst Film. Sadly, leading actors Ben Affleck and Henry Cavill could not make this movie that super, as both are listed under the Worst Actor category.
Independence Day: Resurgence received a Razzie nomination in seven out of eight categories, including Worst Screenplay, Worst Director (Roland Emmerich), Worst Prequel, Remake, Ripoff or Sequel, and Worst Picture, proving that it's definitely better to leave well enough alone.
Keira Knightley, Helen Mirren, and Kate Winslet have all scored nominations for in the Worst Supporting Actress for the same film — last month's Collateral Beauty.
Nominations will be made official on Jan. 23, following the announcement of nominations for the Academy Awards,  in Razzie tradition.
Check out the all of the nominees on the shortlist:
 WORST PREQUEL, REMAKE, RIPOFF OR SEQUEL
Alice Through the Looking Glass
Batman v Superman: Dawn of Justice
Blair Witch
The Divergent Series: Allegiant
Fifty Shades of Black (Fifty Shades of Grey spoof)
Independence Day: Resurgence
The Legend of Tarzan
London Has Fallen
My Big Fat Greek Wedding 2
Ride Along 2
Teenage Mutant Ninja Turtles: Out of the Shadows
Zoolander 2
WORST SCREENPLAY
Assassin's Creed
Batman v Superman: Dawn of Justice
Dirty Grandpa
The Divergent Series: Allegiant
Fifty Shades of Black
Ghostbusters
Gods of Egypt
Hillary's America: The Secret History of the Democratic Party
Independence Day: Resurgence
Mother's Day
Suicide Squad
Zoolander 2
WORST SUPPORTING ACTRESS
Cassi Davis – Boo! A Madea Halloween
Julianne Hough – Dirty Grandpa
Kate Hudson – Mother's Day
Keira Knightley – Collateral Beauty
Helen Mirren – Collateral Beauty
Aubrey Plaza – Dirty Grandpa
Jane Seymour – Fifty Shades of Black
Octavia Spencer – The Divergent Series: Allegiant
Sela Ward – Independence Day: Resurgence
Kristen Wiig – Masterminds / Zoolander 2
Kate Winslet – Collateral Beauty
WORST SUPPORTING ACTOR
Nicolas Cage – Snowden
Benedict Cumberbatch – Zoolander 2
Johnny Depp – Alice Through the Looking Glass
Jesse Eisenberg – Batman v Superman: Dawn of Justice
Will Ferrell – Zoolander 2
Jeff Goldblum – Independence Day: Resurgence
Jeremy Irons – Assassin's Creed / Batman v Superman: Dawn of Justice
Jared Leto – Suicide Squad
T.J. Miller – Office Christmas Party
Geoffrey Rush – Gods of Egypt
Brenton Thwaites – Gods of Egypt
Owen Wilson – Masterminds / Zoolander 2
WORST DIRECTOR
Dinesh D'Souza – Hillary's America: The Secret History of the Democratic Party
Roland Emmerich – Independence Day: Resurgence
Justin Kurzel – Assassin's Creed
Dan Mazer – Dirty Grandpa
Greg McLean – The Darkness
Babak Najafi – London Has Fallen
Tyler Perry – Boo! A Madea Halloween
Alex Proyas – Gods of Egypt
Zack Snyder – Batman v Superman: Dawn of Justice
Ben Stiller – Zoolander 2
Michael Tiddes – Fifty Shades of Black
WORST ACTRESS
Jennifer Aniston – Mother's Day / Office Christmas Party
Marion Cotillard – Allied / Assassin's Creed
Megan Fox – Teenage Mutant Ninja Turtles: Out of the Shadows
Radha Mitchell – The Darkness
Tyler Perry (as Madea) – Boo! A Madea Halloween
Margot Robbie – The Legend of Tarzan / Suicide Squad
Julia Roberts – Mother's Day
Becky Turner (as Hillary Clinton) – Hillary's America: The Secret History of the Democratic Party
Naomi Watts – The Divergent Series: Allegiant / Shut In
Shailene Woodley – The Divergent Series: Allegiant
WORST ACTOR
Ben Affleck – Batman v Superman: Dawn of Justice
Kevin Bacon – The Darkness
Gerard Butler – Gods of Egypt / London Has Fallen
Henry Cavill – Batman v Superman: Dawn of Justice
Dinesh D'Souza (as himself) – Hillary's America: The Secret History of the Democratic Party
Robert De Niro – Dirty Grandpa
Zac Efron – Dirty Grandpa / Mike and Dave Need Wedding Dates
Liam Hemsworth – Independence Day: Resurgence
Brad Pitt – Allied
Will Smith – Collateral Beauty / Suicide Squad
Ben Stiller – Zoolander 2
Marlon Wayans – Fifty Shades of Black
WORST PICTURE
Assassin's Creed
Batman v Superman: Dawn of Justice
Collateral Beauty
The Darkness
Dirty Grandpa
The Divergent Series: Allegiant
Fifty Shades of Black
Gods of Egypt
Hillary's America: The Secret History of the Democratic Party
Independence Day: Resurgence
London Has Fallen
Mother's Day
Suicide Squad
Zoolander 2
Are there any films that you would like to see on the list? Are you surprised by any movies that were nominated? Leave your Razzie predictions below. ~Ashleen Grange