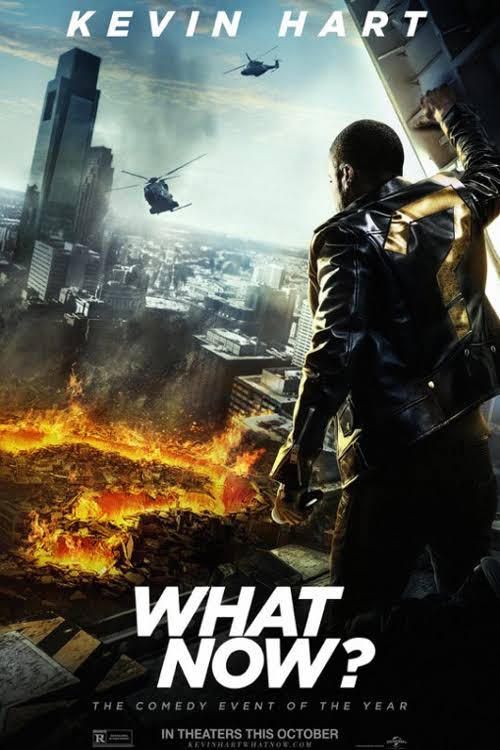 Comedic history was made on August 30, 2015, when Kevin Hart performed to a crowd of 50,000 at Lincoln Financial Field in Philadelphia. A follow-up to 2013's majorly successful Let Me Explain, Kevin Hart: What Now? is the theatrical release of that high-octane show, marking the first time that a comedian has ever sold out a football stadium.
Not one to do things on a small scale, Kevin starts off the special with a bang — a dramatic first act, featuring cameos from Halle Berry, Ed Helms, Don Cheadle and David Meunier, followed by a tireless performance to a stadium packed with screaming fans.
Tribute's writers Shelby Morton and Emily Hatfield went to a rowdy advance screening of the film, and have a lot to say about it…
EH: Before we dive into the heart (pun intended) of Kevin's show, what did you think of the very operatic opening sequence?
SM: Honestly, when did comedy get so over the top? While I usually love a good spoof, I'm seriously longing for the days when a dude just stood in front of a crowd and made them laugh. No antics, just a stage and a mike. But, I will admit there were some legitimately witty and laugh-out-loud moments during this intro, particularly between Kevin and "villain" David Meunier. And, as a House of Lies fan, I'm never one to turn down a Don Cheadle cameo.
EH: I agree. I wasn't crazy about the whole thing, but the cameos were enjoyable. Ed Helms is one of my favorite comedians and he added the perfect amount of goofiness to an already outrageous situation. I also thoroughly enjoyed Kevin and Don's back and forth.
SM: And Halle Berry is a Time Lord.
EH: Seriously, I need to know her secret. While the introduction was an enormous theatrical production, I wouldn't expect anything less from Kevin. He operates on a level equal to that of the 50,000 people he performed for. It was an unbelievable entrance for an unbelievable comedic accomplishment. After launching himself on stage, with a quick pause for a wicked 360 panoramic shot, he quickly made himself comfortable and got right into his routine.
SM: You hear 50,000, and you think "Wow, that's a lot of people." But holy crap, is that a lot of people. That first panoramic shot was jaw-dropping, showing just how massive the Lincoln Financial Field is and just how many humans you can fit into it. What I also enjoyed about his entrance is how excited he looked. There were some shots of the people in the crowd, waving and shouting his name, and it's almost as if he fed off that energy. Say what you will about Kevin's comedy, performing for a crowd of that scale is a pretty incredible feat.
EH: It really was. I think one of the things Kevin does really well is that his comedy relates to so many different kinds of people, from almost any background imaginable. Like you said, you could see that in the crowd. He even mentioned it at the end of the show, saying how proud he was to perform in front of such a diverse audience, coming together under one roof to laugh and share in each other's experiences. It was a magical thing to see, and at moments, I almost felt like I was there with them.
SM: Yeah well, that's probably also because the production value was insane. This was the gold-plated, LED, 3D, unabashedly 21st century version of stand-up. Before I go on a rant about the comedy clubs of yore, let's get to the good stuff — the jokes. What did you make of Kevin's stand-up?
EH: The visuals playing out on massive screens behind Kevin helped bring interactivity to his jokes. There were many moments where I literally LOLed, like when he told the story of an unfortunate encounter with a fan in a washroom, made even more hilarious by the image on screen. There's no doubt that Kevin has a knack for knowing what most people find funny, and toilet humor is most certainly one of them. He was willing to (literally) lay it all out there for the sake of the laugh. But wait — I want to hear about these comedy clubs of yore?
SM: Well, if you're ever in Manhattan, go to the Comedy Cellar on MacDougal Street. Then you'll understand what I'm talking about. But what you've said is true, subtlety definitely isn't Kevin's style. While a lot of his stories tend to get a little melodramatic and overwrought, he also touches on a lot of really relatable things — like his kids going "soft" after attending private school, or his irrational fear of raccoons. But what I like most about his comedy is that he recognizes his privilege as a multi-million dollar comedy star and isn't afraid to roast himself for it.
EH: Yeah, he's his own best/worst critic. What did you think of that emotional ending?
SM: I think it was one of the few moments where we saw the real Kevin Hart. Usually the dude is pretty frenetic and loud, so it was nice seeing him show his hometown of Philadelphia some grounded appreciation.
EH: Agreed. You could see the tears welling up in his eyes. I'm not going to lie, I was really happy for him and for the success he's built for himself. Like you said, despite the glitz and glamour, he always goes back to his roots when it matters.
SM: Now the question really does remain…what is Kevin going to do now? How can he top this? After seeing this whirling dervish of a comedy show, I'm actually pretty curious to find out. I give Kevin Hart: What Now? a 7/10.
EH: I don't know if he can top this, but Kevin Hart always has a fantastic way of surprising people. It gets a 7.5/10 from me.
Kevin Hart: What Now? hits theaters today (October 14). Click here to rate and review it.