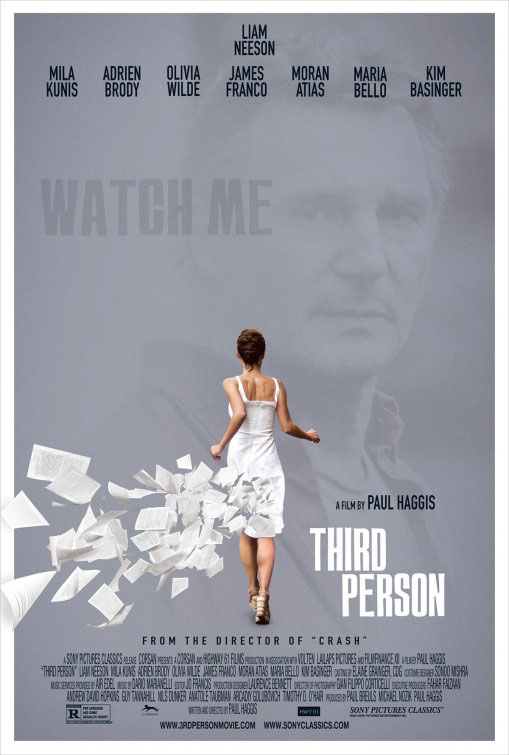 In his new film Third Person, Oscar winner Paul Haggis exhibits the same successful storytelling framework exhibited in his highly acclaimed 2005 film Crash, of interlocking stories. However, this time around the film revolves around three love stories, each at a different stage in their relationship, including passionate, turbulent, or indifferent. One thing that stays the same is Paul's unique delivery of the emotional roller coaster.
At the center of the film is the passionate Paris storyline, starring Liam Neeson as a Pulitzer-prize winning author who is having an affair with ambitious young journalist and aspiring novelist Anna (Olivia Wilde).
Meanwhile, in Italy we see the beginning of a relationship as con man Scott (Adrien Brody) becomes entranced with the beautiful and mysterious Monika (Moran Atias). Scott can't help but become tangled up in a dangerous plot to save Monika's young daughter from an underground scam transporting children from other countries. At the other end of the love spectrum is the turbulent New York relationship between ex-soap opera actress Julia (Mila Kunis) and her son's father Rick (James Franco), who are caught in a custody battle after Julia is accused of trying to kill their son.
The film enchants audiences with these raw relationships while keeping them wondering how the stories intertwine and what the characters' motivations are. The flawless editing is a key part in hooking the audience—especially the use of transitions. The stories are beautifully intercut to flow seamlessly between one another.
For example, as one character turns a corner, another from a different storyline appears in their place. Although the transitions at times do not correlate geographically, this artistic element lends to the relationship storylines, propelling them forward.
All the actors deliver incredible and at times heart-wrenching performances, but Olivia Wilde steals the show with her absolutely captivating portrayal as Anna. She's mesmerizing and unpredictable—and you never know when her attitude will suddenly shift. Her character depicts a range of emotions and Olivia allows the emotions to flow flawlessly.
The Blu-ray is full of special features that give you an inside look into the minds behind the film, including a Q&A with Writer/Director Paul Haggis and commentary by Paul Haggis, actress Moran Atias, production designer Laurence Bennett, film editor Jo Francis and producer Michael Nozik. The Blu-ray also includes the featurette The Making of Third Person, which showcases the main actors discussing their characters and what it was like working alongside Paul Haggis.
Third Person is now available on Blu-ray and DVD. Also available this week: Dawn of the Planet of the Apes, The Hundred-Foot Journey, and As Above, So Below . Click here for a full list of new releases. ~Janine Wyslobicky