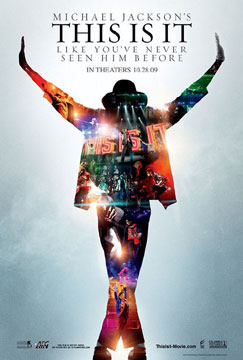 After two months of waiting, Michael Jackson fans can finally take home the King of Pop. The highly anticipated DVD release of Michael Jackson's This Is It hits stores worldwide on January 26, 2010.
The popular film grossed over $200 million worldwide in its five week run in theaters and had rave reviews from critics and fans alike. The film documents the last 100 hours of Michael Jackson's life as he prepares for the first show of his sold-out, 50-city concert tour: "This is It" in London's O2 arena.
Fans are given a rare behind-the-scenes look at Jackson as he fiercely rehearsed his signature dance moves and a few gravity defying feats for his comeback performance. Showing fans that at 50 he still had it, Jackson chose to perform fan favorites from his chart-topping repertoire including: Wanna Be Starting Something, Thriller and Smooth Criminal.
Full mini performances were from snippets of various rehearsals fused together to form full versions of the song. Throughout the film director Kenny Ortega accurately captures the essence of The King of Pop as a performer, creative genius and artist as he documents Jackson's creative process from April up until his unexpected death in the summer of June 2009. His artistic vision became a reality with elaborate and eye-popping 3-D sets that would have awed concert enthusiasts and Jackson fans.
The film also includes candid interviews from some of Jackson's closest friends and long-time collaborators, providing the audience with a full picture of Jackson's true nature. Along with the interviews, Ortega shines light on the singer's fun-loving, care-free attitude as he playfully interacts with band mates and dancers as their boss and fellow performer. The DVD delivers on the special features front with six options to choose from, including an extra hour of footage not seen in theaters; the featurette: "The Gloved One-Costumes" and a tear-jerking special entitled Memories of Michael.
This collector's item is sure to have you singing along to your favorite hits and dancing in your living rooms to Jackson's unforgettable music. Don't miss your chance to own the phenomenal DVD of one of music's greatest artists. After all―this is it. ~Hilary Caton