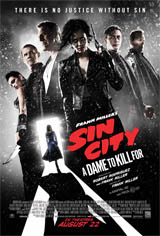 If you're a fan Sin City or of graphic novels turned into movies, then wait no longer for Frank Miller's Sin City: A Dame to Kill For, which will see familiar faces from Sin City and the return of duo Robert Rodriguez, Frank Miller. There are new cast members, including Eva Green and a new reason to kill, apparently. You can find showtimes here and showtimes for the 3D version here.
Chloë Grace Moretz's new film If I Stay is out this weekend. The film is about the choices her character has to make after an accident pushes her to take a look at her life. If you choose YES and want to
see the film this weekend, the showtimes are here. You can also watch our interview with Chloë by clicking here.
When the Game Stands Tall is based on the true story of football coach Bob Ladouceur (Jim Caviezel), who took a high school team to a 151-game winning streak, creating new records in American sports. Check showtimes here.
Daniel Radcliffe finds himself on the receiving end of The F Word, which is about love and being in the dreaded "friend zone," also starring Zoe Kazan. The film opens August 22.
In Are You Here, local weatherman Steve Dallas (Owen Wilson) and his best friend Ben Baker (Zach Galifianakis) team up to battle the legal challenge brought by Ben's sister (Amy Poehler) after Ben inherits his father's estate. The movies opens in select theatres starting August 22.
Head into the gruff and chilly world of Coldwater, directed by Vincent Grashaw and stars P.J. Boudousqué, as his character Brad Lunders is brought to the reform facility Coldwater to help him, after his various criminal activity frustrates his mother. You can catch the film in Toronto starting August 22. Click here for showtimes.
The One I Love stars Mark Duplass and Elisabeth Moss as a struggling couple who take a weekend getaway, which is full of surprises. The film opens in Toronto, Abbotsford and Calgary August 22. Check showtimes here. ~Andrea Hodgins