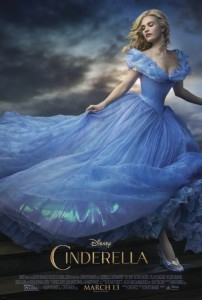 Bippity boppity boo! Magic is in the air this Friday the 13th! The highly anticipated live-action remake of Disney's Cinderella debuts today. Ella (Lily James) embodies her mother's last words to "Have courage and be kind." But when her father remarries, her kindness is put to the ultimate test. Prince Charming (Richard Madden) is sure to make you swoon, while Cinderella's fairy godmother (Helena Bonham Carter) spares no detail for her night at the ball. Also, as an extra treat for those seeing the movie, premiering today is Frozen Fever. The animated short sequel to Frozen will play prior to each screening of Cinderella. To step into a fairytale, click here for showtimes.
Liam Neeson stars as Jimmy Conlon in the action-packed Run All Night. The now aging Jimmy is revered as one of the greatest hit men of all time. His loyalties are put to the test when his estranged son Mike (Joel Kinnaman) becomes the target of his former boss Shawn McGuire (Ed Harris) and he must choose between loyalty to his crime family or blood family. To go on the run, click here for showtimes.
Opening in Toronto, Vancouver, Calgary, Victoria, Regina and Saskatoon is Miss Julie. Taking place in 1890, the unsettled daughter (Jessica Chastain) of the Anglo-Irish aristocracy becomes enthralled with her father's valet (Colin Farrell) and encourages him to seduce her. For showtimes in your city, click here.
Opening in Toronto, Calgary, Edmonton and available on VOD is the Adam Sandler comedy, The Cobbler. Max works in the shoe repair shop that has been in his family for generations. The pressure builds when Ludlow (Method Man) brings in a pair of shoes for Max to fix. He stumbles upon an old family heirloom and fixes the shoes, good as new. When he tries on the final product, he's amazed to see that he has taken on the image of Ludlow. Click here for showtimes.
The Hunting Ground debuts today in Toronto, Vancouver and Halifax. This documentary shines light on rape crimes on university campuses in America and the institutional cover-ups. It also touches on the toll it takes on the victims, their families and fellow students. Click here for showtimes.
Premiering in Toronto, Montreal and Vancouver is the historical film '71. Gary (Jack O'Connell), a young British Army soldier, tries to survive after getting separated from his unit during a dangerous riot in Belfast in 1971. Click here for showtimes in your city.
Opening in Toronto is the comedy Loitering with Intent. Friends and actors Raphael and Dominic are looking to jumpstart their careers. They manage to con a producer into thinking they have a script ready. The two friends have just days to come up with an actual product. Click here for showtimes.
Opening wide is Merchants of Doubt. This documentary takes a deeper look into the world of self-proclaimed experts who claim to be scientific authorities. It covers topics such as pharmaceuticals, climate change and chemicals. For showtimes, click here.
Debuting in Toronto is The Price We Pay. This documentary sheds lights on the past and present realities of big business tax evasion. Click here for showtimes.
Lastly, also premiering in Toronto is The Search. During the Russian invasion of Chechnya, a young woman forms a special bond with a nine-year-old boy. Click here for showtimes.
The watch the trailers for these movies, click the links below:
Cinderella
Frozen Fever
Run All Night
Miss Julie
The Cobbler
The Hunting Ground
'71
Loitering with Intent
Merchants of Doubt
The Price We Pay
The Search
~Sandra D. Sukraj