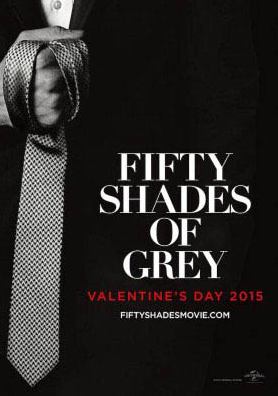 It's Friday the 13th and if you're not superstitious enough to stay indoors, grab your pre-Valentine's Day date and head to a theatre near you.
If you're worried about the cold, don't worry – opening up the doors to their Red Room of Pain is the highly anticipated erotic film Fifty Shades of Grey. When naive college student Anastasia Steele (Dakota Johnson) finds herself enticed by handsome young entrepreneur Christian Grey (Jamie Dornan) and his mysteriously charismatic ways, she finds herself tied up in a not-so-conventional relationship. For showtimes, click here.
If action is how you want to kick off your weekend, Kingsman: The Secret Service debuts in theatres today. Gary "Eggsy" Unwin (Taron Egerton) is a delinquent street kid who is recruited into a secret spy organization's ultra-competitive training program by veteran agent Harry Hart (Colin Firth). For showtimes, click here.
What would Valentine's be without some drama? In the musical The Last Five Years, a struggling actress (Anna Kendrick) and her boyfriend (Jeremy Jordan) have very differing perspectives as they look back on the last five years of their relationship. Click here for showtimes.
If you're looking for some laughs, grab your passes to What We Do in the Shadows; a comedy showcasing the struggles, fears, hopes and dreams of three vampires trying to get by in modern society. Click here for showtimes.
If vampires aren't your thing, check out The Voices, a comedy starring Ryan Reynolds, Gemma Arterton, Anna Kendrick and Jacki Weaver. Under the care of his psychiatrist (Weaver), Jerry (Reynolds) is under a strict regimen of antipsychotics for his mental health problem. When he stops taking his meds, he begins to hear voices; like his cat telling him he's idiotic and unlovable. To prove his cat wrong, he asks his co-worker Fiona (Arterton) out on a dinner date that doesn't go quite as planned. For showtimes, click here.
And there you have it! Sorry, horror fans, looks like Jason isn't coming back this Friday the 13th. Let us know what you're most excited to see. Happy Valentine's Day movie lovers! ~Sandra D. Sukraj